Communication has been integral to any civilization. The world is moving towards becoming a big digital civilization, thanks to effective & fast communication. Emails is integral to this communication. It has played a very big role in shaping how we communicate. Email is used for personal as well as corporate communication. When you talk about corporate communication you can segregate emails for internal communication or for external communication with your clients, creating a brand image, generating leads etc. To send such a huge amount of emails you need a Simple Mail Transfer Protocol Server or SMTP Server in place.
In this article, I am going to explore everything there is about what is an SMTP server?, the difference between SMTP and SMTP Server? How does SMTP work? How to integrate free best SMTP servers available online to send free emails?
We all know that emails are the most efficient way to communicate and it gives astounding results. Online you can see that some claim that it gives even $39 ROI for every $1 you spend.
Morpheus Seems to Agree !!
The whole system of emails has been transformed by Simple Mail Transfer Protocol Server or SMTP servers. Using SMTP Servers is analogous to using posts in the old times. Where you use to have a postman, who use to get his posts through a head office. The whole system combined from start (You dropping your posts) to finish (where you use to receive your posts) was called the mailing system. It's just ironic that the whole physical system has transformed and come online. Let's explore this system in depth.
Here are the topics that we are going to cover as we move along –
What is SMTP or Simple Mail Transfer Protocol?
Let's start with explaining What is SMTP? What is the meaning of SMTP? SMTP stands for Simple Mail Transfer Protocol. It is similar to your Internet Protocol or IP address used to the principal communication network. It is a part of the application layer of the TCP/IP protocol. SMTP works on the concept of "store and forward" just like a CDN. It works with your MTA or Mail Transfer Agent to send your communication to the desired computer or recipient. MTA is basically an SMTP Server. Click here to find out what is an SMTP Server?
SMTP basically controls how the email that you send moves from your MTA to another MTA using Google MX records. The Simple Mail Transfer Protocol provides you with a set of code that makes it easy to communicate emails among the email servers (just like your web servers). SMTP helps break down the message into different parts that only the email servers can understand. I hope we answered the common question that people have in mind what mail protocol is used to send mail messages to a server? The answer is simple SMTP Or simple mail transfer protocol! When it comes to email-related operations, such as configuring email settings or establishing reliable email communication, many individuals and businesses rely on web design companies that possess expertise in implementing and optimizing SMTP.
Fun Fact – SMTP is able to transfer only text, it can't handle fonts, graphics, attachments etc. That's why you call it SIMPLE mail transfer protocol 😛

You use MIME or Multipurpose Internet Mail Extensions to send non-text content like multimedia. In the transformed format, SMTP is cajoled into transferring the data.
The message is turned into small fringes of text. Which can be identified by the servers. SMTP provides the codes to servers which then can be decoded. These messages are sometimes passed through many MTA's or computers. They get briefly stored in their path. You can think of it like a letter going through many hands to reach its destination.
Fun Fact- Your ISP (Internet Service Provider) have a limit of no. of emails you can send out. Usually a particular no. per hour or per day.
Every ISP relies on its SMTP to govern and determine the number of emails that can be sent by each connection. For some of the persons who need to send a huge amount of emails, this can be a hindrance. To avoid this always check your ISP's policy.
What is SMTPs? Or Simple Mail Transfer Protocols?
SMTP/SMTPs (Simple Mail Transfer Protocol/Secure or SMTP over SSL): By now you must be well aware of the meaning of SMTP and its role in sending emails. Now let's move a step further and discuss what is SMTPs? SMTPs is a method for securing SMTP with transport layer security and is intended to provide authentication of the communication partners. SMTPs is not an extension of SMTP; it is a way to secure SMTP at the transport layer.
Simple Mail Transfer Protocol
This is an advanced level and if you are not an Expert or Professional you can skip this part and move on to What is SMTP Server Part!
Simple Mail Transfer Protocol is a protocol for the communication of Emails. It was first defined as IS or internet standard in 1982 by RFC 821, then again it was updated in 2008 and it was updated by RFC 5321 to extended SMTP additions which we use even today. As discussed above all the MTA's use SMTP. It is also used by Proprietary systems like IBM Notes, Microsoft Exchange, and Webmails like outlook, yahoo, and Gmail use non-standard protocols internally, but use SMTP to send and receive emails externally.
SMTP Servers use Port No. 25 with the Transmission Control Protocol
User-level email clients, usually use SMTP only for outgoing messages to a mail server for relaying, and typically submit an outgoing email to the mail server on port 587 or 465 as per RFC 8314. For retrieving messages, IMAP and POP3 are standard, but proprietary servers also often implement proprietary protocols, e.g., Exchange ActiveSync.
What is an SMTP server?
You must be thinking what is SMTP or what is an SMTP server?. An SMTP Protocol or Server Mail Transfer Protocol is a set of rules for Digital Communication i.e Electronic mail transmission and the SMTP servers are the applications whose main function is to send, receive or Switch between outgoing mail senders and receivers. There are a lot of Free SMTP Servers available online through which you can send free emails.
Here are top 5 SMTP server choices by us –
Sendinblue – 9000 free emails /Mo | Review | Pricing | Alternatives | Coupon | Vs Mailchimp
Elastic Email – Unlimited emails – 5000 contacts $15 | Review | Pricing | Alternatives | Coupon
Pepipost – 100 Emails daily | Review | Pricing | Alternatives | Coupon
SMTP2Go – 1000 free emails/ Mo | Review | Pricing | Alternatives | Coupon
Types of SMTP servers
Normal Servers
It is an ordinary SMTP server that acknowledges emails and lines, which then the receiver gets. It necessitates that you determine a lot of nearby domains took care of by the server. In the event that any email comes in from an alternate domain and a pass on message is permitted, the message will be conveyed to its destination server. SMTP servers can be used bidirectional bound delivery services. I.e inbound or outbound. Read about how to use the SMTP server in your email marketing strategy to increase your sales.
SMTP Proxy servers
Proxy servers are not Full functional like SMTP servers but it requires an actual SMTP server so that it can connect. Users connect to actual SMTP servers through a proxy server like smart proxy so that they can block unnecessary mails, monitor their emails, and even alter their content.
You can read more about email clients
Why do we Use SMTP servers?
Now, you have an idea about SMTP and SMTP servers. Now the main Question arises why and when we Use SMTP servers as there are various Email Service providers available now i.e Gmail, Yahoo Mail, etc. Which we use in our day to day mailing and for business purposes. But they have certain limitations that an SMTP server can resolve. By leveraging the services of a web design company in Los Angeles, you can set up and configure an SMTP server to handle both drip marketing emails and transactional emails.
The main purpose of using SMTP servers instead of Common Email Providers is Scaling. Which is only possible with Dedicated SMTP servers. Let us understand this with an example, You run a business and you need to send multiple emails or bulk mails regarding promotional offers, acknowledge User activity on the website such as password change, forget the password, Sign up process, etc. To handle all these you need a system that can not be done by sending mail from a web interface that is not an option.
Best Free SMTP Servers to send FREE EMAILS?
Following are the best Free SMTP server providers out there to send FREE EMAILS –
Sendinblue
One of the most renowned names in the email marketing industry is Sendinblue. Sendinblue offers your company a variety of free responsive email templates along with the drag and drops feature enabling users to create their own emails as well. Let's look at what other things SendinBlue has to offer.
Content can be personalized as well as unlimited lists can be created for better customer relationship. Sendinblue provides 100+ responsive email templates. Check out the complete Sendinblue pricing analysis when compared to it's counter parts !!
You can take a trial at no cost where you can send 9000 emails every month FOREVER!!.
The different plans offered to the businesses help a small-sized firm to choose the best plan as it fits for themselves without worrying on the cost factor. The site also provides features like marketing automation, transactional emails, contact management, real-time reporting, and integration among others. Check out Sendinblue review in detail.
Read why Sendinblue can be a good alternative to Mailchimp with our guide on Sendinblue vs Mailchimp!!
Transactional emails are the messages or emails which are automatically generated when a specific action has occurred in real-time. They are the triggered emails whose main focus is on the customized information. All the marketing automation, transactional emails, and even email autoresponders are known as Drip Marketing campaigns which help in improving conversions.
What are you waiting for? Read out the features offered by Sendinblue here.
How to use SendinBlue SMTP Plugin to send FREE EMAILS to your WordPress Site?
Using WordPress to send emails is neither safe and is not recommended, as most of your emails land up in either promotional or spam folders leading to loss ho leads and ultimately revenue. Below I have solved this issue in a jiffy as Sendinblue offers 9000 free emails per month you can easily use Sendinblue to send transactional emails for free. Just follow the steps below –
Create a free account without giving any financial information.
Once you are logged in after confirming your email address, on the right top corner you see your username as depicted in the image below, once you click on it you will see a drop-down menu then click on SMTP & API. Or the other way, if you are logged in you, can click on this link.
Then on the right top corner click on CREATE AN NEW API KEY You have to choose the 2.0 to generate the Plugin API key and then click on Generate.
Then install the SendinBlue WordPress Plugin and activate. In the left-hand tab, you must see a separate Sendinblue tab. Enter your API key (Please note you have to enter the Plugin key) that you generated in the last step and click on login.
Now you should be able to see the complete Sendinblue plugin settings.
In the SendinBlue Plugins setting area in the lower side, you will be able to see a heading as transactional emails click on Yes tab and enter the sender email you want to use Like [email protected] etc.
Send a test email and Now you are good to go, now you can send transactional emails using Sendinblue SMTP. Then, you can select your sender information (you can control this from your Sendinblue dashboard) and send a test email
Pepipost
Pepipost company aims for providing attractive looking emails driven by powerful information. Pepipost gives 30,000 free emails for the trial month & 100 emails free theirs after. The pricing plan of Pepipost starts with just $17.5 that lets you send 150,000 emails per month. I think the pricing is reasonable.

The email templates provided by Pepipost gives the users a memorable experience and makes them feel important. You can choose among the pool of email templates provided by the company and look for the best template which suits your business image. The email automation feature of Pepipost enables emails to be sent to the subscribers for any signup, or purchases made. Read in detail what is email automation?
How to use Pepipost SMTP for your WordPress emails
In WordPress, you send transactional emails using WP itself which is not a good practise and anyone can eve tease into your emails and content, which generally contains sensitive information. Using third party services like the Pepipost SMTP is recommended, it is much more reliable, Let's look at how to use Pepipost for your WordPress Websites it in a jiffy –
Create a free account by Signing-up,
Once you are in the dashboard, Now you need to add your WP site's URL, as shown below in the "Add Sending Domain" section
Once you move forward you will be asked to authentic your domain name by adding two TXT records in your DNS records. They have a self-explanatory visual tour to guide you to move forward smoothly.
Now that you have authenticated your domain name, you need to find your API key you can do that by navigating to Settings → Integrations in your Pepipost dashboard. Keep this value handy because you'll need it in the next step:
Download the pepipost plugin, click on the Pepipost tab in your WordPress dashboard, and add your API key. Also, fill in the other information asked. Once the changes are done, you can try sending a test email.
Mailjet
Mailjet motivates the business to achieve its aim of converting prospective customers into actual ones by providing them with resources. Mailjet offers a number of free email templates in which the already existing information can be converted into appealing content which goes with the brand image.
We all know an attractive email entices customers to take a step forward and captures their attention. The billing options provided by Mailjet start with a free plan that lets you send 6000 free emails per month. Isn't it a great deal? Look out for price ranges of Mailjet.
The email templates/newsletter in Mailjet vary from event announcement to sale and eCommerce announcement to the basic email template. Look out for more best email newsletter examples here. The company offers its customers attractive landing pages. dashboards, timely reports along with timely delivery of email. For more features, click here.
How to use Mailjet SMTP to send emails in your WordPress site
Create a free Mailjet account
Now that you have signed up. Now from the dashboard, you will be able to see a transactional email tab click on the overview button. As shown in the image below.
After you have clicked on the overview button, look out for API keys. To improve deliverability, Configuration option needs to be chosen for adding as well as authenticating the domain and address of the sender.You can now download as well as activate the WordPress plugin of Mailjet.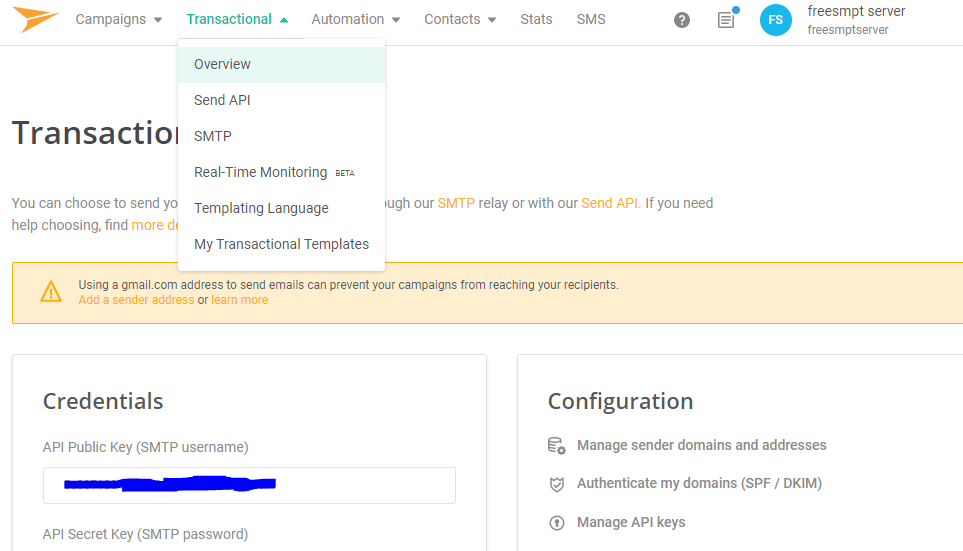 A distinct Mailjet option can now be seen in WordPress dashboard after activating the plugin. You now just need to put the API keys which were given while signing up.
Now you need to sync the users of WordPress by Mailjet which can be done by clicking on the sending settings. You can also skip this, if you need to send transactional emails through Mailjet only.
You can start sending the test mail after enabling the sending email from the plugin dashboard of Mailjet.

Read our analysis on when is the best time to send your email campaigns, where we have analyzed more than 20 million email subscrivers and their email opening habits so that you get the best conversions
Elastic Email
Elastic Email is another email marketing firm that focuses on providing the best technology to small and medium-sized firms helping them to reach excellence through the innovation model. Elastic Email is a dedicated partner that helps businesses by understanding their business model and proposing customized marketing plans. You can check out Elastic Email's price plans.
Start with a free trial by clicking here.
Elastic Email offers various email templates to subscribers along with amazing features such as designing an email marketing strategy, CRM, email automation, AI, and transactional automation. You can read about the steps to an awesome email marketing strategy for better customer relationships which ultimately leads to improved sales and profits. Elastic Email offers some of the best email templates to businesses for creating memorable and expressive emails.
How to use Elastic Email to send unlimited emails to 10,000 subscribers for just $10 through your WordPress site using the elastic email plugin
You can easily use Elastic Email to send transactional emails to your WordPress site, Let's check out how –
The primary step is you Sign-Up up and creates a free account
Once you have activated your account by authenticating your email address. Click on the user name in the top right corner and click on settings.
Then choose the API tab as shown in the image below. You need to create an API for your elastic email account. Click on Create API key button
Name your API key and Fill the permissions as shown below and then click on the "create" button on the right top corner. Don't close the window which appears now!!
Once you click on the create button, you will be shown the API key once, don't close the window as you will need it to access your API key to activate your plugin. And they will not show the key again !!
Install the elastic email-sender WordPress plugin on your website. Once you activate the plugin, click on the elastic email-sender tab from your WordPress dashboard.
Now you will see the general settings, choose the settings as shown below.
Select Mailer – Send all WordPress emails via Elastic Email API
Elastic Email API Key – Add your key that you generated in the last step
Email type – Transactional
From Name – Enter the email name you want to appear
Email From – Email Id you want to use to send your emails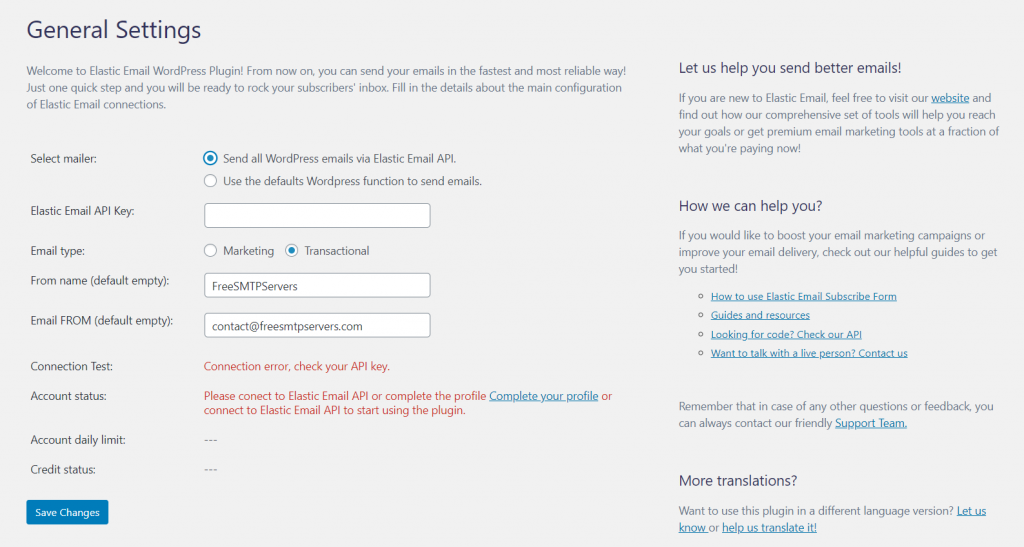 When you click on Save changes you should be able to see a success message, now you are all set to use elastic email as your default transactional sender for your WordPress emails. You can now click on the elastic email-sender tab from your WordPress dashboard and try sending a test mail to check if everything is in place.
SMTP2GO
SMTP2GO is an SMTP service provider that via its multiple data centers located across the globe helps you get fast delivery and good sending rates. While running an email campaign smtp2go's systems are capable to detect any issues that might prevent your emails from landing in your inbox. It does not have any hourly limit or the daily limit set like some other free mail servers like Gmail etc.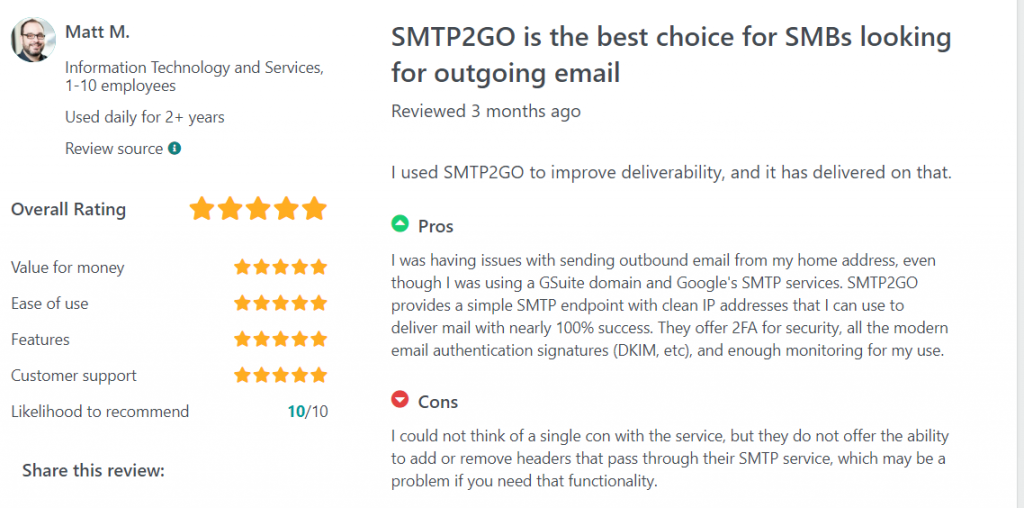 Just like other powerful tools, SMTP2GO will help you stay updated with your email efforts by giving you real-time analytics & spam trap detection. Furthermore, when you sign up for the free plan, they offer 1000 emails per month and 5 days of professional email reporting. Providing ticket support as an emailing service isn't always as straightforward as it might seem. For those who need a free tier, SMTP offers you the necessary tools to confidently build your message and successfully deliver it to your recipients
That's not all either. The service also offers toll-free phone support and live chat support so you can easily get to grips with it and configure your server. All said SMTP2GO is an excellent solution for new businesses that want to employ the best practices from day one.
Here are the details for setting up your SMTP –
How to send emails using SMTP2GO SMTP?
SMTP server: mail.smtp2go.com
SMTP port: 2525 (or 80, 25, 8025 or 587 if that doesn't work).
Username / Password: Turn on SMTP authentication and enter your account's SMTP username and SMTP password.
Note: TLS/SSL is optional. TLS is available on the same ports. SSL is available on ports 465, 8465, and 443.
SMTP2Go also provides a detailed report of the emails that you send like the SPAM complains. hard bounces, soft bounces, etc. so that you can optimize your campaign. Here is a review by Matt M. taken from GetApp.
Moosend

You can also try Moosend for your SMTP needs. You can use moosend to send UNLIMITED free emails to 1,000 subscribers the pricing for using its SMTP Server starts at just $10 per month for 1000 subscribers. Moosend concentrates on Agencies, Content creators, Saas software targeting each category in a very unique way.
How to Send Emails In WordPress Website With Moosend's SMTP Server?
You can use Moosend's SMTP Server to send your transactional or triggered emails on your WordPress websites, using WP mail SMTP Plugin. You need to Sign up with Moosend to move forward. Moosend offers a premium SMTP Server the price is less but it is not free. Below are the detailed steps on how to do it.
First, you need to install and activate the "Easy WP SMTP" plugin on your WP site
Now you need to configure the plugin, navigate to the plugin's settings



Now in the plugin's setting, you will see the "From Email" tab, This is the email Id the SMTP connection will use to send out your emails
Next in the "From Name" tab enter the name that you want to use to send your emails. Leaving this blank will not hamper your connection
Under the tab "Return Path" you can check the inbox if you wish to get all the non-delivery or bounce messages in the "From Email" you have specified above in Step-3.

Now you need to choose "Mailer" you want to use to send your emails since Moosend is not specified you need to choose "Other SMTP" as shown in the image below.


The following settings page must appear once you chose the "Other SMTP" option. Now we need to configure these settings to move forward.


Hope you have Signed-up on Moosend, as told at the start. If you haven't you need to sign up now.
Now that you have signed up, you need to open your Moosend account and navigate to "Mailing Lists". Now select the list in which you want to receive the transactional emails using Moosend SMTP. You can choose an unlimited number of mailing lists to send your emails to.

Click on Direct SMTP from within the list menu in the "Mailing List". As shown in the image below.

Now you must be seeing all the config information you require to connect your website to your Moosend account.

Now please note the information like SMTP Hostname, SMTP Port, SMTP Username, and SMTP Password. Kindly do not share this info with anyone. Enter this information to your WP Mail SMTP Plugin and click save settings. NOTE – In the image below the port being used is 465 instead of port 25. Please check with your WordPress hosting provider which port they are supporting.

SMTP Host: smtp.mailendo.com
Encryption: TLS
SMTP Port: 465
SMTP Username: Your Moosend account email
SMTP Password: Your Moosend account password

Now to confirm you need to test out your connection, Go to the Easy WP SMTP plugin and click on "Email Test"
Insert the email address you want to send your test email. Now once you have sent your mail check your inbox if the email was delivered. If you got the email then your SMTP connection is configured correctly.
Now you need to check whether the test mail sent to the right email list, for that go back to your Moosend account, and check. The final step is to actually check whether that test email address has been added to your Email List within your Moosend Account.
Ps: Some of the images are taken from moosend's website for this tutorial's purpose
SocketLabs
SocketLabs lets developers send bulk emails without the hassle. Whether you're a developer or an IT professional, you can send emails at no cost. Deliverability is good when you are using socketlabs, you are in reliable hands for sure.
With SocketLabs, you'll get 40,000 free emails for the first month and then a limit of 2000/month after that. Choosing their hosted SMTP service will also maximize your inbox deliveries and keep your messages from being flagged as spam.
SocketLabs offers real-time information about the delivery status of your email which helps you monitor any errors and notify you. SocketLabs enables you to set up integrations between your in-house apps & Socket. This will allow you to monitor statistics related to your email marketing efforts in a better way. One benefit that is worth mentioning is that they support DKIM signing, SPF, ISP traffic, and more with their cloud SMTP servers.
Here is a complete guide on using Socketlab's free SMTP
If you are using WordPress to run your website here is an easy guide on how you can use the Socketlab plugin
How does SMTP server work?
SMTP server Works Exactly on the principle of our typical Mailing system. It collects the sender's email and delivers it to the recipient's local post office, which is another SMTP server.
Before proceeding further, let us understand it with a physical mail, suppose there is a sender who lives in Mumbai, and he/she wants to send a mail to a receiver who lives in Delhi. Primarily the mail will be sent to Mumbai's post office which will act as a sender's mail server then the mail is being sent to Delhi's post office which will act as receiver's mail server and after that, it reaches the receiver.
Similarly, When a sender tries to send mail for example through Gmail to yahoo mail, To complete this process SMTP's main work is to transfer the mail from the sender's mail server to the receiver's mail server. In the end, POP/IMAP is another Receiver server that is responsible for receiving mails and sending it to the receiver end.
You send an email with your PC email client or through the web from your own email address to a particular contact.
The message is commonly sent utilizing port 25 to an SMTP server which is designed in your mail customer.
The client and the server start a concise "discussion" where the server confirms all the data with respect to the transmission of the message such as sender, beneficiaries, domains, and so forth. Note that the SMTP language characterizes just the transmission of the message, and doesn't watch the content of the message body.
At that point, if space to which the beneficiary has a place has its record legitimately associated with the server, the email is conveyed right away. Something else, the SMTP server conveys the message to another server closer to the beneficiary. In our message, the webserver interfaces with the Domain server, if everything is right then it receives the email and stores it.
What occurs if the beneficiary's server is down or occupied? The SMTP server just conveys the message to a backup server: if none is accessible, the email is lined and the conveyance is retried intermittently. After a specific period, if the conveyance isn't effective, the message is returned as undeliverable. Read about email automation tools to increase your sales!
On the off chance that there are no issues, the last fragment is constrained by POP, another convention that gathers email from the receiving server and spots it in the beneficiary's inbox. We hope we have cleared all your doubts about what is an SMTP or what is an SMTP server? Let's dive in to learn some more about SMTP servers.
While Sending the Mail, SMTP is used two times-
Between the sender and the sender's mail server
Between the sender's mail server and the receiver's mail server.
Send mails using SMTP servers
After discussing what SMTP and SMTP servers. Now here comes the main part i.e how to implement it. you have two options either you can set up your own SMTP server or connect it with your SMTP server providers such as Gmail, Yahoo, etc. Send Unlimited FREE emails using free SMTP service providers. You can check how many free emails does the different free email servers give here
Most of the users feel that SMTP servers require a lot of expense while setting up. Be that as it may, on second thought, it truly doesn't. Since each of the SMTP servers has limitations on them to serve mails on different ISPs.
Regardless of whether you do the coding that helps you to scale and send a large number of emails, in some cases Internet service providers(ISPs) Block the emails and treat them as Spam because a single user has sent emails in bulk from the same IP at the same time. Then again, in the event that you decide on a decent Email Service Provider (ESP), you can send billions of emails, get email conveyance aptitude and assemble high IP notoriety. Picking the correct ESP is exceptionally basic. While sending emails in mass, it's great to quantify the presence of your emails since this will help assemble the notoriety of your sender area.
Pro Tip – Before you decide sending emails get an overview about can spam act, to avoide any kind of penalties & trouble
Subsequently, rather than taking care of the framework yourself, you can decide on a decent ESP. It can help you with following all client exercises like email opens, clicks, ricochets, spam grievances, and some other significant action. We recommend SendinBlue SMTP server for sending free Emails as they have the best deliverability and their servers are distributed all around the world.
You'll discover this blog helpful on the off chance that you need to send emails with PHP from an SMTP server.
What is incoming mail servers or POP3?
When you access your emails through the POP3 protocol, all emails are being allowed to be downloaded on your computer so that you can see them later whether there is internet connectivity available or not.
When you download your emails, your email service provider will delete your mails from the remote server.
POP3 is recommended when you are facing slow internet connections, to make email backups when there is nonavailability of internet, cyber-attacks and email boxes with low or full capacity. Do we hope by now you are familiar with what is SMTP protocol?
Read more about how to find incoming mail servers here
What is my SMTP Server Address?
An SMTP email server will have an address (or addresses) that can be set by the mail client or application that you are using and is generally formatted as smtp.serveraddress.com. For example, Gmail's SMTP server host address is smtp.gmail.com, and Twilio SendGrid's is smtp.sendgrid.com. You can generally find your SMTP email server address in the account or settings section of your mail client. To determine your SMTP server and its parameters you have seen most server names are written in the form SMTP.domain.com" which is not sufficient to determine your SMTP server.
And if you are intended to send mails, you need to configure your mail program using the SMTP server IP address. To determine the SMTP server IP address follow the steps given below.
Open your command prompt by clicking on the Start menu and type RUN(press enter after that).
When cmd window opens you need to type "ping SMTP server name" for example "ping mail.gmail.com" and after that hit "enter". The following command will try to communicate your SMTP server through IP Address.
If you did not find the SMTP server address you can read more about your SMTP server address here
Outlook SMTP Server Address
If you are using outlook express you can Click on "Tools," and then "Accounts," then go to "Mail".
Then select the "Default" account, and click on "Properties" from the menu.
Choose the "Server" tab and choose "Outgoing Mail." This will be your SMTP Server Address.
Yahoo SMTP Server Address
Server Address: smtp.mail.yahoo.com
Port Number: 465 (With SSL)
Username: Your Yahoo Address (e.g. [email protected])
Password: Your Yahoo Password
Authentication: Required
Alternative Port Number: 587 (With TLS)
Sending Limits: 500 Emails a day or Emails to 100 connections a day.
Gmail SMTP Server Address
Gmail SMTP server address: smtp.gmail.com
Gmail SMTP port: 587 (With TLS)
Gmail SMTP username: Your Gmail address (for example, [email protected])
Gmail SMTP password: Your Gmail password
Gmail SMTP port: 465 (With SSL)
Gmail SMTP TLS/SSL required: Yes
Office 365 SMTP Server Settings and Address
Go to your Outlook Web App click on Settings and search for "POP and IMAP"
On the My Account page: Go to Settings for POP or IMAP access. Server name: outlook.office365.com
POP settings Office 365
Port: 995
Encryption method: SSL
Server name: outlook.office365.com
IMAP settings Office 365
Port: 993
Encryption method: SSL
Server name: outlook.office365.com
SMTP settings Office 365
Port: 587
Encryption method: TLS or STARTTLS
What are the advantages of using an SMTP server?
Generally, when you purchase a web hosting service, they provide you inbuilt SMTP server so that you can create SMTP email accounts that are connected with your Web hosting service.
Although your web hosting service provider provides you inbuilt SMTP server with cheap rates, it is advisable for you to use external SMTP servers. Because the Inbuilt SMTP servers have limitations and poor performance.
Limited mail speed: Sending and Receiving emails would be slow if you are on Shared web hosting.
Vulnerable to hack: The SMTP protocols are liable to be hacked and the inbuilt SMTP servers are lacking with it or because the cheap web hosting services usually have cheap security measures. By now you must be able to answer what is SMTP protocol?
By using external SMTP servers you will get,
Better Speed: an External SMTP server will increase the whole process of sending and receiving mails as compared with the inbuilt one.
Better deliverability: With the help of External or dedicated SMTP servers your mail is secured and guaranteed to be delivered.
You can likewise hire a Free SMTP server like Amazon SES, which you can configure rapidly and effectively, and will likewise offer you the chance of sending emails naturally and characterizing your emails by classifications. You will similarly get a detailed report each month with subtleties on the lows, highs and other significant information that might be valuable to you. I hope we answered all your questions regarding what is SMTP?
Frequently Asked Questions
How Does SMTP Work?
SMTP is a set of rules which is used for bulk email Transmissions. To make this possible we use SMTP servers to send free emails, which is responsible for transmitting emails from sender to receiver. Let us understand this with a physical example. Suppose you live in city A and your friend lives in City B. Do you want to send a letter to your friend who lives in city B. what will you do first?
You will write a letter and send it to your nearby post office ( Sender Server) From which it will transfer to its destination, i.e Receiver's post office ( Receiver Server). Now Through Receiver's post office, it reaches B. This is how the SMTP server works. But one thing you should keep in mind is that SMTP servers are only responsible for sending mails. And to receive emails POP3 or incoming mail server is used.
What Does SMTP mean?
SMTP or Simple Mail Transfer Protocol is a set of Rules which is required for email transmission between servers. Most of the email systems which send mails through the Internet follow this protocol. And the mail can be retrieved with the other mail client IMAP or POP. This is why you need to specify IMAP/POP and SMTP in your email application.
What is the SMTP Protocol?
SMTP (Simple Mail Transfer Protocol) is a set of rules or instructions which are required to be followed by email applications to communicate or transfer mails via the Internet. IT is somewhat similar to any physical example like post offices. In which they all follow the set of rules/instructions like, dispatching mail from sender to receiver. Without any specific Rule of a set of instructions, there is a possibility of Data/information loss, that cannot be retrieved once Lost. Learn about SMTP with our complete guide.
What is an SMTP address?
Much the same as everything else on the web that required to communicate with anything else. The SMTP address is utilized to send your mail message to the correct device or destination, through the right communication channel. Similarly, SMTP servers have also an Address which is set by email applications or clients. It is generally found in the format "smtp.serveraddress.com". To understand this clearly, let us take an example of Gmail or Google Mail which is generally in the format as "smtp.gmail.com". Learn everything about SMTP with our guide and learn how to use SMTP to send free emails.
How do I find out what my SMTP server is?
Either use the below command or learn your SMTP address here.
Just Open your command prompt by clicking on the Start menu and type RUN(press enter after that).
When cmd window opens you need to type "ping SMTP server name" for example "ping mail.gmail.com" and after that hit "enter". The following command will try to communicate your SMTP server through IP Address.