Sendinblue
$0 - Free 9000 emails every month
Automation Capability
8.5/10
Pros
Efficient Drag N Drop Editor
Real-Time Reporting
Transactional Email Feature
CRM and Contact Management
Facebook Ads
Cons
Basic Plans – Lacks Key Features
Takes Time, Effort and Expertise to Set Up
Cheaper options available
This year we saw why there is a need to start your business online and start finding & connecting with them on the web. Digital marketing is the hottest trend this year, we might call it the digital revolution. Email marketing is a big part of this digital game, it helps you connect with your users and deliver important messages. In this article, we will discuss one such service that helps you grow your business faster through its marketing automation services.
We will discuss SendinBlue and will do a complete sendinblue review in this article. Launched in 2012 it has gained a significant space in the marketing automation industry, particularly in email space. It also provides solutions like SMTP Server, landing pages, email funnels, SMS marketing etc.
You will witness almost every small, medium or large business using emails in some form to connect to their customers, either wishing them on their anniversary or sending them a reminder regarding their abandoned cart, sending the update for a new product feature etc. You will see emails as being the most common way to interact. Now what to do if you have a massive list? I will recommend using a free SMTP Server, now don't get perplexed if you don't know what is an SMTP Server?
We are going to cover the following aspects while reviewing Sendinblue –
Sendinblue Review – Let's take a glance
SendinBlue is the new fad in email marketing you will see a lot of people writing about SendinBlue and recommending you SendinBlue. Even without trying the product, I have been Using SendinBlue across different websites and it has some awesome capabilities when compared to it's counterparts. First the affordable pricing that let's you send free 9000 emails every month.
Second the drag and drop editor is flawless and it offers 108 free email templates which covers almost all your needs like year review, holidays, product launch etc. you name it and you got it.
In this SendinBlue Review, I will talk about the pricing in detail and will also talk about the advanced features that make it so unique. It provides some awesome web monitoring and leads scoring tools. You can integrate your SMS marketing and email marketing efforts in a single platform.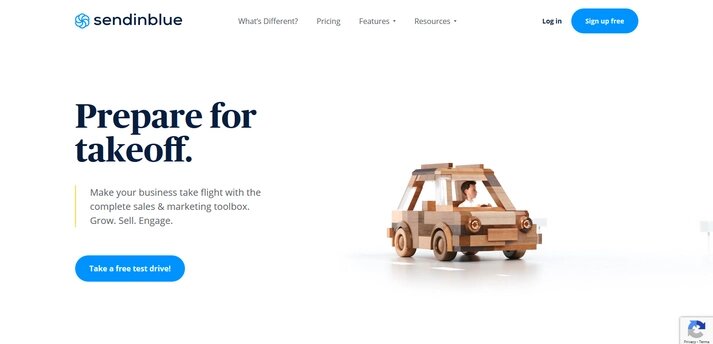 Sendinblue has recently revised their pricing earlier they used to offer 4 different plans but now they have accumulated the plans into three. In the free plan, you can send free 9000 emails every month. That is limited to 300 emails every month.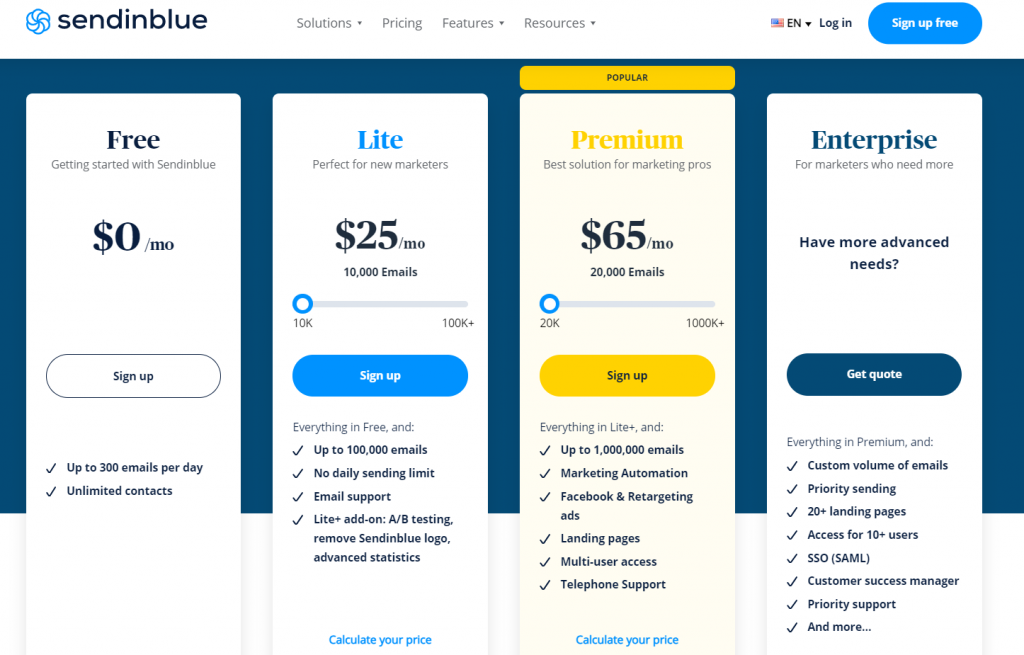 As an email marketing professional I can vouch for Sendinblue, it offers almost everything you need to run a successful email campaign. You can SIGN-UP HERE to start sending free emails.
SendinBlue Features – Why choose SendinBlue as your Email Marketing Platform?
Most email marketing platforms that you see do not have the resources to give you a one-stop solution to all your marketing automation needs, In this Sendinblue review I want to clarify that Sendinblue along with email marketing features offers SMS marketing, landing pages, chat support, etc.
Like all the other email marketing platforms, sendinblue too offers a drag n drop editor which is quite good. Let's look at each sendinblue feature in detail –
Build Effective Email Campaigns Using Drag & Drop Feature
Their Drag N Drop editor is one of the best in the market right now. You can either create a template right from scratch or use their one of the pre-made templates. You can easily create a professional-looking email template by adding, GIFs, images etc. In your email templates, you can also send affiliate links which are not supported by Mailchimp, Read the main differences about Mailchimp and sendinblue in our blog – SendinBlue Vs Mailchimp – Complete Comparison!
You can check out the SendinBlue Email Marketing feature here.
*If you face any difficulty in using their drag N drop editor here is a complete help on how to use Sendinblue's drag n drop editor
You can also save and customize a template that you made earlier. SendinBlue CRM lets you import your contacts to make notes of the interaction you had with each of your contacts, so you can manage the contacts more efficiently and increase your revenue.
SendinBlue Reporting
If you are looking at getting the maximum out of your email marketing efforts, I would suggest you choose an email provider which can deliver in the reporting aspect. Reporting & Tracking is very essential if any business want's you increase their revenue. In marketing, you need to constantly keep improving or optimizing your campaigns. A business owner, marketer, the entrepreneur knows the true value of knowing what works and what doesn't. Sendinblue is well versed to help you get a proper reporting overview.
Sendinblue provides you with all the relevant data like the opening rate, CTR, un-subscription rate etc. The biggest advantage of using Sendinblue is that it provides you with data for each individual subscribers, which you can easily create narrow funnels according to your subscriber's behaviour and push them even more into getting your services or buying your product. You can check the bounce rate, unique clicks, open rate etc. Also, you can check the past opening habits of your clients and do send-time optimisation. In this article, we have discussed how to do send time optimization and send emails at the best time.
With sendinblue reporting you can also check which subscribers have marked your emails as spam, how many have clicked the link on your emails (also you can define your links and see the traffic came from which links) and visited your site.
Here is a complete tutorial about how to review your email campaign reports.
SendinBlue Real-Time Reporting
Now moving on to the Real-Time reporting feature offered by SendinBlue, it is one of the most advanced trackings in the industry. In the Statistics area (left-hand side) in your dashboard. As shown in the image below. You can also create your own goals to be tracked with their custom metrics. Sign up to send unlimited emails to check out their reporting features.
You can filter out the fields according to date. You can sort out your reports according to the click rate, unsubscriber rate, open rate etc. for your email campaigns in a particular time period say any particular month or quarter. Say you want to check out your CTR in all the campaigns in Jan or May to June you can easily check out the previous reports and see what worked and what doesn't
Here are some of the reporting features as per different plans offered by sendinblue –
Sendinblue Transactional EMail Feature
First, let's start with What is a transactional email? In brief, a transactional email is an automated generated email that your subscribers get when they trigger a funnel through their actions. You have no control on when these emails are sent. Eg welcome emails, password resets, abandoned cart, order confirmation etc.
Almost Every time I am dogged by this question what is a transactional email and how is it different from marketing email? That it forced me to add a section in my transactional email guide.
You can use Sendinblue's SMTP server to send transactional email. I have covered the steps on how to use sendinblue to send transactional emails in your WordPress websites.
Check out Sendinblue transactional email features here on their website.
You can use Sendinblue to reduce your SPAM Score automatically, by blacklisting the contacts that do not open your emails or lead in hard bounces.
In the image below you can check out how sendinblue's dashboard looks like. Sign up for free to check out their dashboard –
Marketing Automation
I can't stress this enough that marketing automation is the future of getting more conversions, with tools becoming smarter than before the automation funnels are evolving drastically. With marketing automation, you can easily automate the emails that you send for the actions that your users take, i.e Enter them in funnels.
With Sendinblue you can either create a brand new workflow according to your needs or choose from their library of automated Workflows.
Sendinblue is also number one in our free autoresponder tools list because of the customization capabilities it has to offer you can edit the workflow libraries present and add your own steps as well. Like if you are automating sending a welcome email to a new person, you can choose a welcome email workflow.
Here are some of the things that you can do with SendinBlue automation –
Send a welcome SMS along with the Welcome email.
Setting up an automated Welcome email for new subscribers.
You can customise the lists in which your contacts will enter via different forms on your website. Read here about how to manage your contact lists with marketing automation

Setting up double opt-in to get better leads.
Check out the MARKETING AUTOMATION FEATURE of SendinBlue here.
CRM and Contact Management
Sendinblue is not just an email automation company but a full-fledged customer relationship management software solution. That means it provides with so many more reasons to choose sendinblue. You can use your dashboard to manage your contact lists.
You can easily integrate salesforce with sendinblue which eases your contact management even more. SendinBlue let's you store numerous contact details, for better data segregation like –
Basic Information regarding your contacts like first name, last name, emails, and phone numbers.
Notes from a meeting or call.
Tasks related to a particular contact.
You can easily manage your contacts, and create different workflows for better conversions.
Facebook Ads
You can use Sendinblue for retargeting your leads on Facebook using their email ID's that helps you create brand awareness and thus increase your sales. You can use your sendinblue dashboard to create your Facebook ad and customize it at your discretion. Some of the aspects that you can control using Sendinblue's facebook ads feature are-
Choose the image or gif to display on your ad
Control the CTA and the steps that follow
Control the amount you want to spend each day, sendinblue optimise your campaigns to get you more conversions as per your targeted contact's behaviour
Once you import your contacts and run your add, you can use lookalike audiences to reach an even greater audience. Your Facebook account has already optimized for your contact list and it will show your ad to similar contacts. In your sendinblue dashboard for Facebook ads, you can check out the number of people reached, Impressions, Clicks, the cost for each click etc.
Here's a GUIDE ON HOW TO CREATE YOUR FACEBOOK CAMPAIGN USING SENDINBLUE
Sendinblue Cons – Drawbacks
Basic Plans – Lacks Key Features
When you compare Sendinblue to its alternatives, the pricing offered is more reasonable. As the pricing is based on the number of emails rather than the number of contacts. The basic plan lets you send 9000 free emails every month but are limited to 300 emails every day.
Sendinblue is awesome if you are choosing a higher plan but its basic plans lacks the basic features that are necessary for a successful email campaign.
In the Lite plan which is $25 per month, you don't get Facebook ads, chat, A/B testing or advanced statistics. Also all your emails will contain a SendinBlue logo.
In the essential plan which is for $39 per month, you can send emails without the logo of sendinblue but this plan still lacks features like multi-user access, advanced automation, Facebook ads etc. If you are looking for these features you need to go for a premium plan which will cost you $25 per month.
If your business is looking to send bulk emails and SMS, along with some basic CRM features you can go for the free plan of sendinblue.
COMPARE SENDINBLUE PLANS – FEATURES OFFERED BY EACH PLAN
Takes Time, Effort and Expertise to Set Up
Sendinblue is a very powerful tool if you know what to expect from your marketing efforts. But it requires precision and efforts to set up. If you had some previous knowledge about how email marketing works and will not get confused with the complex workflows.
When you opt for Sendinblue as your email marketing platform, they expect you to know exactly what you wish to do with it. As you need to activate the services that you wish to go for in your sendinblue dashboard. As you can see in the image below.
That's why when you compare to sendinblue alternatives, Sendinblue takes a little more effort to set up each service that you require.
SendinBlue Plan Wise Features
Here is a full different Sendinblue features offered by sendinblue according to the different plans.
Sendinblue Pricing: Comparison of the plans?
Here is the pricing offered by sendinblue in various plans –
Check out the SendinBlue Pricing in detail.
SendinBlue plans are based on the number of emails sent by you and not the number of contacts. There are still very few companies in the email marketing domain that charge you by the number of emails you send.
In the premium package there are two versions that you can choose from – one for 120,000 emails a month (€ 66/month) and the other for 350,000 per month (€ 102/month). You can Signup Here
Check out the price comparison of Mailchimp and Sendinblue.
If you are a small company and you have just 100 to 500 contacts in your list, then this free package might be everything you need. This is a smart idea.
While the Free and Lite versions of SendinBlue provide you with real-time data, they do not provide location or system information, heat maps, or open and click on statistics. The full set of reports is available in the Essential, Premium and Enterprise Platform editions.
A dedicated account manager is the only limitation in support and integration for enterprise customers as you would expect. Each SendinBlue has full access to the API Docs and Plugins, documentation and an excellent customer support team of the company.
Sendinblue Affiliate Program
SendinBlue affiliate program is one of the most efficient programs in place. It pays you 100 Euros for every paying customer you refer and their cookies remain active for 90 days. SendinBlue uses tapfiliate as their affiliate tracking solution. You can effectively use it to monitor your commissions. Commissions payout takes place every month through PayPal or bank transfers. Sendinblue has an amazing affiliate program for its customers and is the best free email sender for small businesses.
You can read more about their affiliate program here.
SendinBlue Alternatives
Check out the below table to see Sendinblue alternatives and their price comparison. If you want to check out details here is a detailed article by us on Sendinblue and it's competitors.
| | | |
| --- | --- | --- |
| Server | Price | Free Emails |
| SendinBlue | Plans vary from FREE to $25 per month | 9,000 emails 1st month limited by 300 daily |
| Constant Contact | No Free Plans | FREE emails to 500 subscribers for 1st month |
| Pepipost | Plans start from FREE to $25 per month | 30,000 emails for 1st month then 100 emails daily |
| GetResponse | Plans starting from FREE to $13.3 per month | Unlimited Mails to 500 contacts for Free-Forever |
| Elastic Mail | Pricing starts from FREE to $15 per month | Free 3000 emails every month limited to 100 per day. |
| Moosend | FREE emails to $9 per month | Send unlimited free emails to 1,000 subscribers |
| Google Gmail SMTP | 500 FREE emails daily to $6 per month | FREE 500 emails daily |
| Mailgun | FREE mails to $35 | Free 5,000 emails per month for 3 months |
| SendGrid | Free to $15/month | FREE 40,000 for the first month only after that 200 daily free forever. |
General FAQ
What is SendinBlue?
Sendinblue is a marketing automation company that you can use to automate your email, SMS and Facebook marketing efforts. While most of the people use it due to it's email marketing capabilities. It also provides services like transactional email, autoresponders, send time optimisation etc. You can create complex marketing workflows using sendinblue.
Is SendinBlue free?
Sendinblue offers a free Plan in which you can send 9000 free emails every month forever. Check the free plan here.
How do I export contacts from SendinBlue?
You can easily export SendinBlue contacts with there attributes by –
Go to Contact Tab in your SendinBlue account
Either choose all your contacts or create filters to export segments
Then choose the check-box on the left to select all the contacts that you filtered
Click on the Export Tab and choose if you want to export SendinBlue contacts once or on a daily basis
Select the attributes that you want to export
What is SendinBlue email?
SendinBlue is a single marketing platform that provides you with SMS, Email, Landing Pages, Ads etc. It help's you grow your online business in less time and help you gain the visibility that you deserve. Check out the complete SendinBlue Review here.