As marketing has evolved, so does the platforms through which you can target your customers, marketers will kill to get the brand name registered in the mind of their potential customers. SMS marketing or what some may say text message marketing plays a very important role in achieving this objective.
With a significantly higher opening frequency than newsletters, an SMS is opened by as many as 97% of the recipients. A newsletter has a greater risk of disappearing into the masses or ending up in the spam. Be sure to take advantage of this opportunity to reach your customers.
Biggest advantage of SMS Marketing is it's inability to disappear in SPAM – www.SMTPServers.co
Click To Tweet
For SMS marketing to be seen as successful, your text SMS need to be relevant. The right message to the right recipient. In order for it to be really good, you need to collect data about your customers and segment lists according to this information.
You can segment your lists by different countries, postcodes, active customers during a certain period, etc. With the help of data about your customers, the recipient lists can be completely adapted to your wishes.
When any one is looking at some marketing medium we generally has a question about the pricing. I assure you SMS marketing is one of the most cost effective marketing mediums in the world, Check out the SMS pricing for various countries here.
In this article I will take you through all the things necessary to make to a well-known SMS marketer and increase your conversions many folds. So let's get to it without wasting any more time. In this article I will cover the following topics, you can click the below menu to reach the relevant topic you want to read about.
How to Send an SMS Campaign? – Steps Included
Why SMS Campaign is the FINISHER MOVE in your Email Marketing? Practical Examples Included
What is SMS marketing?
Most of us have this misconception that SMS term is exclusively related to mobile phones, but in reality, an SMS or Short message service referred to a message that can be sent via any of the mediums like telephone, landline phone service, Internet, and mobile device systems (earlier pagers). But mostly it is now concentrated on mobile phones, now that we understand the term let's move on to what is SMS marketing? How SMS became the favorite medium to capture leads for marketers. Hope it answers the question appropriately about what is sms marketing? You can use the same tool that I use for text marketing to send free SMS campaigns. Thank me later !!
Using text messages or SMS for sending transactional messages or promotional campaigns is termed as Bulk SMS marketing. Text Message marketing is mainly used for providing people with important and relevant information. Like some promotional offers, latest updates, latest product launches, event discounts (birthday or anniversary).
GET STRAIGHT TO BUSINESS – HOW TO SEND SMS CAMPAIGNS? STEPS EXPLAINED
SMS or text marketing help's in developing a trust relationship. It is one of the most important discoveries since the development of the wheel. I love my alloys !!:-)
According to pewresearch.org 81% people in USA has smart phones, and people are spending more time on smartphones than ever, people now prefer smartphones to surf the internet, check emails etc.
As you can see in the image of google trends below how rapidly this medium is on the rise, I have taken the trend for the USA for the search term "SMS marketing" from the time period 2004-present, it shows that it is effective and people see huge results that's why they are searching for it more and spending on it.
Hope you have got the essence of what is bulk SMS marketing?
Why marketers are head over heels about text marketing – Why SMS marketing works?
"The more the merrier" More the number of ways to target your customers and segment them, the more conversions you are likely to get. You just need to keep on optimizing the campaign's data and target them according to their behavior or actions. When your email campaigns are complimented with your SMS marketing strategies, it is a deadly move and it will increase your conversions many folds.
1. Smartphones are everywhere – Period
According to the latest study by pewresearch.org 81% people in USA has smart phones, and it is one of the most sought after medium to communicate with your potential customers. You can drive traffic to your website by sending a link in your SMS campaign, to your latest blog, send them a link via a generated dynamic QR code to your feedback form and discount coupons, etc.
According to the latest studies the average time spent per day on smartphones in the US alone is 3 hours and 21 minutes. Which has increased by over 24% from the previous year.
2. Complimenting Email Marketing
SMS Marketing tools, when kept in mind with your email marketing strategies gives a much better conversion. Transactional SMS's can be sent with complementing transactional emails. For who does not know what is a transactional email?. Emails generally contain detailed information whereas SMS is instant confirmation, is short & to the point.
Marketing without data using bulk SMS medium is like driving your car with eyes closed
Click To Tweet
When you send a transactional email such as sign up confirmation or payment confirmation it is followed by an SMS. Reading SMS is still much more convenient than reading emails. Here is an article on SMS marketing vs Email marketing, which clearly reiterates that the email marketing's biggest disadvantage is that emails landing in SPAM folders. Read about how to use text marketing along with email marketing in detail here.
3. High Engagement Rate & Engagement is Immediate
The data shows that engagement rates of text marketing are over 90% which is much more than email marketing. Data also suggests that text messages are read within the first 3 minutes in which they are received. Which is in fact phenomenal when you compare to any other medium of marketing.
Text message marketing also has the advantage over lower medium class, which does not have any access to good internet. You can easily target them with the focus on your SMS strategy The Open rate of SMS is around 98% whereas it is just 20-30% for emails.
6. Send Precise & Engaging Content
SMS campaigns are helpful in delivering the most relevant information in precise messages. The ability to send links and drive traffic to your website almost instantly is insane. The advantage that you do not require an internet connection to receive an SMS is what makes it even more attractive.
You can easily segment your recipients and send them targeted personalized SMS's through various tools, we have discussed the steps in the later section of this article.
7. SMS Marketing is Cost-Effective
Text message marketing is one of the most cost-effective mediums of marketing. Even small businesses and startups can easily afford it. Big businesses use for scaling. On average, an SMS in the US will cost you around 1¢ per message. As you can it's hardly $11.4 for 1000 SMS in the USA it is very cost-effective, I must say!!
Once you Sign Up, with sendinblue You can check out the pricing on SMS plan by clicking here. If you are looking for a complete Sendinblue pricing analysis here is the guide.
You can check out the pricing of various countries here or on the list of pricing of SMS campaigns below or you can click on the image to go to the page for pricing. SendinBlue follows an SMS Credits system, read more about it here.
8. Campaigns are tracked
SMS marketing campaigns can be tracked and analyzed using the service that you are opting for. If your SMS service does not provide advanced analytics you need to rethink your association with the company as you are loosing out to a business. With the analytics data, you can make an informed decision and optimize your campaigns. Send fully tracked SMS campaigns for free here.
You can also use Google UTM links to track your campaigns effectively.
How do different companies use SMS Campaigns? Examples Included
Here are some of the ways different businesses use SMS marketing in their broader Digital Marketing Campaigns –
Professionals Like Doctors, Lawyers – Client Reminders & Appointment confirmations
Real Estate – Showing schedule reminders, best deals etc.
Bars & Restaurants – Event's Coupons, Reservation reminders, deal of the day, happy hours deals etc.
Retail Businesses – Latest Deals, Holiday Sale etc.
Schools & Colleges – Schedule changes, Test Reminders, Assignment reminders
Travel Companies – Flight time updates, flight gate changes, weather alerts, coupons, cancellations etc.
What are the best SMS marketing softwares?
Sendinblue: Pricing varies by country, $1.09 for 100 SMS to send across the USA. | Check Pricing
Omnisend: Pricing varies by country, $1.50 for 100 SMS to send across the USA. | Check Pricing
Why choose SMS Marketing?- Benefits & Merits
We have compiled some of the most important benefits of SMS marketing and why you should definitely consider using SMS marketing channels more often, Here Goes –
Reliable Delivery – No SPAM folders
Can Target Income groups with no internet access or does not use emails
Easily reach older audiences, that are not familiar with emails
Easy Segmentation and direct targeting
You can track campaigns and optimize for better results
Drive traffic to your site
How to Send an SMS Campaign?
Enough talking, let's look at how you can send amazing SMS campaigns.
Before Getting Started let's first get you Signed Up. Once you Sign up your dashboard will look like the one below
Now click on the + sign in the header as highlighted in the image above.
Drag down and enable the SMS campaigns tab from your Apps center. Also, make sure you have the phone numbers defined in your database which you have uploaded. The mobile number must be saved in the column (attribute) labeled as SMS. Don't forget to use the country prefix as required. If you have any doubts about creating your contact lists, here is how you can do it.
Note : Sendinblue currently only supports GSM Characters. Unicode content used in non-Latin alphabets (e.g. Arabic, Russian) is not supported.
Now let's move to creating your SMS Campaigns. As shown below make sure you are in the campaigns tab in the header, Now choose SMS in the right-hand side and click on Create an SMS Campaign on the right-hand side. Avoid these mistakes while sending your SMS Campaigns.
Name your campaign, this name will be for your personal use only your recipients won't be able to see this name. You can also personalize the name of the sender that you wish your recipients should see.
Now let's move on to adding your message in the SMS Message field. As we have discussed above your message should be less than 160 characters which include your spaces and enters. Please give your recipients an OPT-OUT OPTION while writing your SMS otherwise you can land in Fine and LEGAL TROUBLE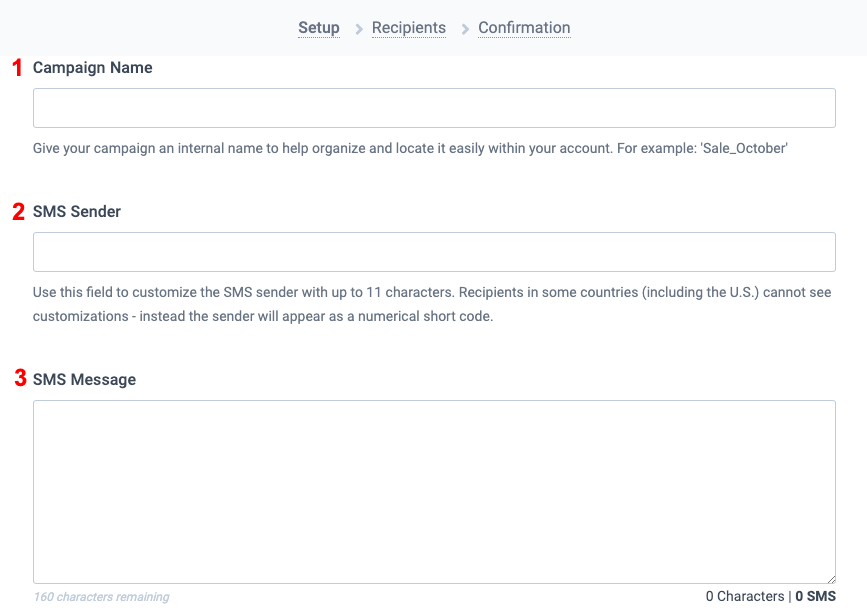 Text Messages above 160 characters in length in 1 SMS, the length changes to 153 characters Eg if your message is 330 characters, your campaign will be split in 3 messages, with characters divided as 153+153+24 characters
Now you have created your message, you can easily test the campaign that you have created remember the test message you send will be deducted from your SMS credits that you buy in the start.
Now you need to choose your recipients according to the SMS campaign that you want to send, also you can apply segmentation and select the person you want to target according to a particular trait.
Review the campaign and check the segmentation that you have made thoroughly before sending, Let's schedule that campaign now, you can either choose to send the campaign immediately or you can choose to send it at a later date
Pro Tip – In USA and other developed countries it is generally prohibit to send text messages between 10 p.m and 8 a.m on Sundays and Holidays.
Top Mistakes companies make while sending SMS marketing campaigns!
The biggest disadvantage of SMS marketing is, it is limited to just 160 characters, you need to use them wisely to avoid any fallout. In this part, I will discuss the biggest mistakes even the most prominent brands have made in the past and check for these mistakes before sending them these campaigns.
1. Unclear CTA
With such limited characters to convey your message, every message should be clear and to the point. You just have 3 seconds to get the recipients attention so use the words wisely. Here are some of the examples of SMS with good call to actions.
2. ILL Timed SMS campaigns – Timing is everything!
Proper thought out message campaigns have the ability to increase your revenue many folds. Every marketing channel is time-sensitive and there have been huge studies to prove this. The study we have mentioned below works well both for SMS campaigns and mail campaigns.
Here is a study that we here at www.SMTPServers.co conducted by taking thousands of recipients and studying the data from huge service providers. Readout article on the best day and time to send emails.
Let me explain with a little example, suppose you send your SMS marketing campaigns at night around 12 P.M. it will have a very less open rate and your recipients will get annoyed too.
The frequency of your messages is also very important, you need to send drip SMS campaigns. Sending too many emails will annoy your recipients and it will create a negative impact on your brand, they will avoid, giving you any further information in future. Also sending very little SMS's will too have an adverse effect, your brand recognition will be compromised. You need to keep a balance!! For those who do not know what is a drip campaign? You can read our guide on Drip email campaigns!! SMS and email campaigns generally go hand in hand hence the only major difference is SMS the message is limited to 160 characters so all the email strategies apply for your SMS campaigns too.
3. Personalization of your campaigns
Personalization is way beyond just sending SMS to your contacts with their respective names. By personalization, i mean sending SMS's according to segmentation and target. It is very important to segment your lists so that you can send relevant information to the recipients at the time they require it the most. Let me explain by giving an appropriate example –
Suppose you are a Restaurant in a tourist town!!
You have your peak time in winters from sept – march, and you have abundance business in this time and are generally full.
You have all the contacts of your customers along with bunch of other information (like the state etc.), now using SMS marketing segmentation feature that is generally available with all the good SMS service provider companies. Now You have to send an SMS campaign for a discount of 30% in non peak months. You can easily choose and target the customers from your area around. Also you can send the discount coupons on their birthday's.
4. Monotonous Messaging is a crime – Don't do it!
I have seen many companies sending same messages to their clients, it is BORING !! & They DON'T CARE !! 🙁
It is a crime if you do so, can you eat the same food forever?
You need to add value for your clients, make them care for your messages. You need to let the horses of your creativity run high, and test new ideas –
Mix & Match, use the element of surprise. Give them different offers and test it out.
Try sending SMS at different days and time
Celebrate the festivities with your clients, give them occasional prizes and offer giveaways
5. Taking Permission Before Sending Them Messages
Sending SMS without taking consent is a felony and you will be fined heavily, not to forget the bad repo you will get. I am sure you will loose the trust and money both in the process. Also Please give an opt-out option in your SMS campaigns otherwise you can fall into LEGAL TROUBLE
Imagine even in some scenarios service providers charge for receiving messages over the network, you really don't want this person to go and complain, It will cost you thousands of dollars in damages.
6. No Opt-Out Option
This practice is carried out by even the biggest of companies that fail to give an opt-out option. This too is against the law. Plus this will increase your cost too. When you are targeting thousands of recipients. I don't see a point in targeting those who are not interested in receiving your messages.
You can simply check in the analytics of your SMS service provider and remove those who haven't opened your messages in a long time, say last 10 messages. That way you will reduce your costs. When you put an OPT-OUT Option you tend to have long messages PLEASE READ the points for long messages.
When you keep on sending the messages to persons who are not interested and do-not give them an option to opt-out you may come out as a dubious company and it will hamper your brand image. All the good companies give you an option to opt-out.
7. Long Messages
Sometimes companies forget the limit of 160 characters and send long messages, which in turn is divided into two short messages when received by your recipients. This looks unprofessional and naive. I have come across ho many instances even when the biggest companies make this mistake. When you send long messages it will cost you more as your SMS strength is reduced to just 153 characters
Why SMS Campaign is the FINISHER MOVE in your Email Marketing?
Email marketing and SMS Campaign should always be used in sync to get the optimum results, all the transactional emails that you send should always be followed by SMS campaigns as it is a possibility that the person is old aged and he/she is not comfortable with emails. It gives a better sense of authenticity. Hope you have enjoyed our article till here, You will definitely love how to send EMAILS USING FREE SMTP SERVERS HERE.
Let's look at some egs to give you a better sense how email campaigns can be followed by SMS –
1. Promotional Announcements
How to use Email – Notify about the upcoming sale
How to use SMS – Check out the statistics which persons opened your email, checked your products for more than 30-45 seconds (we can't take persons that added product in their cart as the sale is not yet live) Now you can send an SMS campaign giving them additional discounts in form of coupons, for the products that they checked along with a link to the product that they viewed the most (don't show all the products they viewed on a single page with different carousals they will get distracted) show a single product and below that you can show other products that they viewed.
2. SMS + Email for successful Events
Using Emails – Tell people about the events and generate interest. Collect leads
Using SMS Campaigns – You can use SMS's to make it easy to attend the event like updating your signed up users regarding weather update, reminder regarding the event schedule etc.
3. Effective Communication with your users
Email Communication – You can send information like the new product launches, new features etc to existing paying and non paying customers
SMS Communication – Convey important information like the login into a account using new device etc.