A Complete Guide To MailerLite Pricing: How Much Does It Cost?
Offering a simple pricing model with no hidden fees, MailerLite is an affordable email marketing solution for business owners small to big that want to create and send emails.
MailerLite is a great email marketing tool. It is a popular email marketing solution for startups, small businesses, and bloggers. Furthermore, it provides a clean-looking interface that's easy to use. MailerLite has some compelling features, like landing pages and automation, which are only available in the paid version of other email marketing tools. For more info on email automation, check out our explainer here.
Kudos to the MailerLite team! MailerLite has a well-designed and user-friendly email marketing management panel that simplifies managing your account. Apart from that, it is extremely simple and reliable to use, and doesn't lack features at all – It has it all. Let's discuss a simple pricing model for the software and see what you can expect from it.
If you want to know more about Mailerlite take a look at this review.
MailerLite Simple Pricing Model: A Quick Guide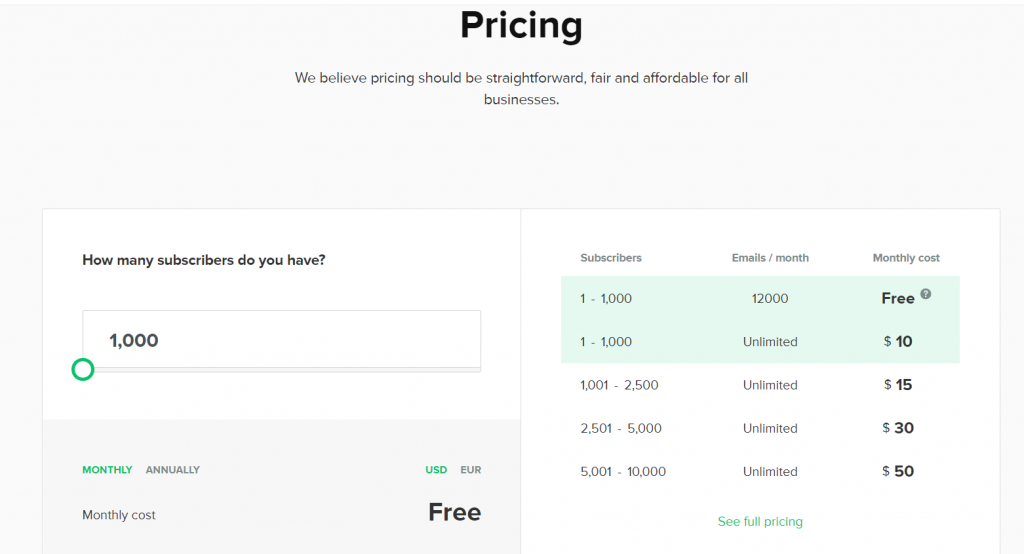 Mailerlite offers a freemium plan for those with up to 1,000 contacts and 12,000 emails per month. Besides the freemium plan, MailerLite premium plans are exclusively designed for those with a mailing list of up to 15,000 contacts. The cost of the plan depends on the number of contacts or subscribers:
$15 per month for 2,500 subscribers,
$30 per month for 5,000 subscribers,
$50 per month for 10,000 subscribers or
$75 per month for 15000 subscribers.
Also, no worries if you have more subscribers; they've got you covered. Additionally, you'll get a 30% discount, if you sign up for a yearly plan on your subscription. Also, for an additional number of users, MailerLite provides two options:
50,000 users for $210 per month.
100,000 users for $360 per month.
MailerLite: Free vs. Paid Plan
MailerLite offers two email marketing plans, free and paid. A free plan is a great way to start your email marketing campaigns while testing the software before upgrading to a paid plan. There are a few features you'll miss out on with the free plan. The only key here is to upgrade if you truly need these features:
Support for live chat.
Templates for newsletters.
Timezone-based delivery.
Custom domains for landing pages.
Email click maps.
Custom HTML editor.
Opens by location.
Auto resend to those who didn't open or click.
Moreover, If you use MailerLite for free, your emails on the free plan will have a logo attached. The logo is not customizable, and it is visible to your recipients. You get a bunch of features with MailerLite's free plan: automation, email reports, the landing page editor, and email support. Additionally, it is one of the best providers when it comes to pricing and features.
MailerLite Premium Plan Discounts
MailerLite provides a whopping 30% off for non-profits, and you can also get an additional 30% off if you avail of the annual plan.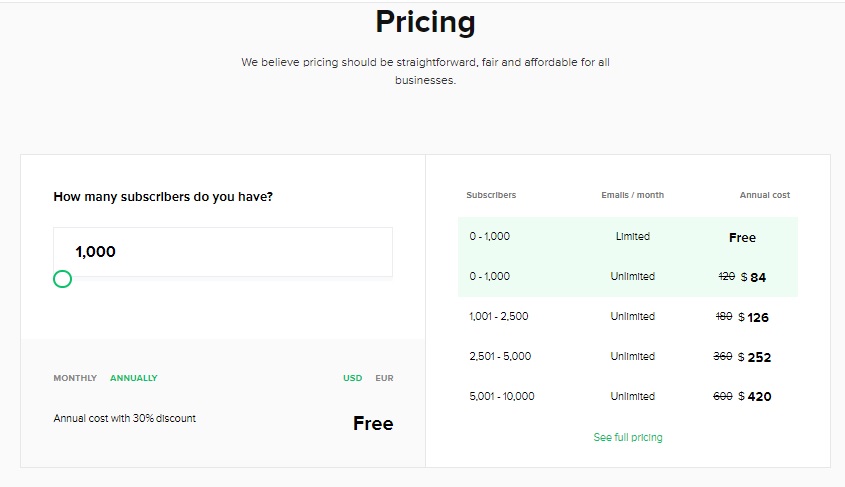 What Add-ons Can You Avail?
Customers can avail add-ons like dedicated IPs for their websites, priority support, and more.
Dedicated IP: MailerLite offers a dedicated IP to customers who want to send over 50,000 emails per week. They can get it for $50 per month.
Priority Support: MailerLite also provides priority support via live chat or email for $100 per month.
Website Builder: Another add-on that MailerLite provides is "SitesPro," a website builder that costs $10 per month for unlimited landing pages and websites.
Wrapping Up!
MailerLite offers an easy-to-understand pricing scheme. The company provides one paid plan, including all available features. It's simple to calculate how much MailerLite will cost your business: First, check out their pricing tiers (linked above) to see how many lists of subscribers you have, and then find the corresponding pricing tier that works best for you. That's it!
For small lists, it's hard to beat MailerLite's price. It offers a lot of features too! MailerLite is worth every penny because it's one tool that provides the best value for your money.
For more information, visit the below links.
FAQs
What counts as a Subscriber?
Every email address you contact will be considered a monthly subscriber to your MailerLite account. We want to remind you that with MailerLite, there's no possibility of constantly replacing used subscribers with new ones – thus, you should pick a plan according to the number of active subscribers you have.
Are there any pay-as-you-go plans in MailerLite?
Unfortunately, MailerLite does not provide any pay-as-you-go plans.
Does MailerLite offer any discounts?
Yes, MailerLite offers a 30% off for non-profits and 30% additional off on availing of the annual plan.
Can I cancel my plan at any time?
Yes, you can cancel your monthly plan at any time, but for the annual plan, you have to wait till the expiration date.
Does MailerLite offer any free plans?
Yes, MailerLite offers a freemium plan with 1,000 subscribers and 12,000 emails per month. Moreover, you will also get some pro features for the free plan.
How much does MailerLite cost?
The pricing plan of MailerLite starts from $10 per month and increases with the addition of subscribers.