Any good business requires to automate their emails and SMS's basically marketing efforts as it leaves significant time at the hand of business owners to focus on another aspect of the business. Here the free autoresponder tools come into play that let you send emails for free and with ease.
Now you will ask me, Why put so much effort into automating emails? I want to tell you an email is one of the most profitable ways to increase your revenue and traffic. There is a reason companies are spending millions of dollars on automation funnels and autoresponders. According to statista.com "humans will be sending 347 billion emails every year by the year 2022". Here is an image that will make you believe.
As far as the numbers are concerned if you are creating email funnels right and know what you are doing? Or has the enthusiasm for how things work in digital marketing, you can get a revenue of up to $38 for every $1 investment that you make. Yes, It's a gold mine and free autoresponders act as the extraction tools. Conditioning you have a genuine list and not a purchased spammy one.
Now you must be thinking that I got it "EMAILS EMAILS EVERYWHERE, HOW DO I SEND THEM FREE ?" Here is an article on Free SMTP Servers and how to integrate them into your WordPress website to send free emails.
If you are looking up how to set up auto responder emails like welcome emails, anniversary coupons, etc. please stay on this article and don't wander off, I know I have many awesome tools waiting for you, hey put those horses to rest !! 🙂
Email auto responder tools overview:
Before moving forward I have segregated the top autoresponder tools according to their features and their usability. I will cover the free autoresponder tools along with some of the best tools available and the features they offer in various plans –
Free autoresponder tools: What they have to offer in the free plan ?
Here are some of the best affordable and cheap autoresponder tools that you can use to automate your email marketing efforts –
Sendinblue- 9000 free emails/Mo (FREE PLAN) – Get Sendinblue Coupon

Workflow editor
Page tracking
Marketing automation workflows (2k contacts),

Constant Contact (TRIAL PLAN) – Get Constant Contact Coupon Code

A/B testing
Auto resend
Welcome email
List building tools

Moosend Free Emails | 1000 Subscribers (FREE PLAN) – Recomended

Automation Workflow Designer
Pre-Built Automation Templates

MailerLite – 12000 free emails/Mo (FREE PLAN)

Email Automation
Advanced Segmentation
Tagging
A/B testing

Sender.net – 15,000 emails/Mo to 2500 subscribers (FREE PLAN)

Welcome emails
Drip Campaigns
Abandoned Cart emails
Birthday & Aniversary emails
After purchase emails

Aweber Free Emails | 500 Subscribers (FREE PLAN)

Automation
RSS to emails
Dynamic content

Benchmark Email (FREE PLAN)

Basic Drip Campaigns
Segmentation
RSS to Email
Lite Marketing Automation
Best email autoresponder tools: Paid but cheap
Active Campaign (PRO PLAN – $20 – 500 subscribers)

Automation
Geo-tagging
Autoresponders

Get Response (BASIC PLAN – $15 for 1000 subscribers)

Autoresponders
RSS to email
Welcome and birthday emails
Drip campaigns
Tagging
Click & open follow up emails

Omnisend (STANDARD PLAN – $16 for 15000 emails | 12x list)

Email & SMS automation
Pre-build eCommerce workflows
Custom workflows & events
A/B testing
Conditional content blocks
Automation splits
Here are some of the topics that we have covered in this article –
What is an autoresponder? – Explained with examples
Best Free Autoresponder tools
What Is An Autoresponder? – Explained with examples
An autoresponder is not just limited to emails, it is a popular misconception. You can set up free autoresponders in almost every communication platform, email, SMS, chatbots, Whatsapp, etc. Now the big question that arises is What is an Autoresponder actually? Let's take an example to make you better understand.
When you perform a certain action in a website or a web app and it triggers some automated email or SMS will come under the category of the autoresponder. All the anniversary, birthday discount coupons that you receive for various brands are automated emails that are sent by email auto responder tools. Password reset's, new subscriber emails, Any new blog post update, Educational email's regarding some new features in software, etc. all are autoresponder emails.
SKIP THIS PART AND MOVE DIRECTLY TO THE FREE AUTORESPONDER TOOLS AND HOW TO SET AUTORESPONDERS WITH STEPS!!
Let's look at some other autoresponder examples – We miss you emails, abandoned cart emails all these are just transactional emails automatically set up to send emails when you trigger action and not some guy is sitting to send you each email individually, god thanks for automation !! 🙂
I want to point out that Auto responder emails are a broader category and cover transactional emails. Some people will refer to both the terms synchronously due to very little difference in them. Let's move forward for a better understanding. –
When you go to a restaurant sometimes while paying the bill they ask for your anniversary or birthday. And suddenly on your birthday, you receive a birthday wish along with a discount coupon. This is because that your birthday has triggered an auto responder to send you an email.
All the welcome emails, confirmation emails, password resets come under the category of transactional emails (emails that are sent instantaneously).
All the abandoned cart emails, verification codes that you receive via email, SMS or Whatsapp are sent automatically via autoresponder tools.
If you have subscribed to a blog post, whenever a new blog is published you get a notification regarding the new blog post. This is done through RSS feed automation.
You can remind your subscribers to renew their plans by sending them an automatic reminder.
You can segment your readers according to the content that they like to read and send them an autoresponder series with content around that particular topic.
Best Free Autoresponder Tools
SendinBlue | 9000 Free Email's Per Month | No Credit Card Required (Recommended)
Constant Contact | 10,000 Free Email's Per Month | No Credit Card Required (Recommended)
Aweber | Unlimited Free Emails to 500 contacts
Get Response | Unlimited Free Emails to 1000 contacts
Active Campaign | PRO PLAN – $20 – 500 subscribers
Learn about free email to use for your digital marketing in this article by SMTPServers.co!
SendinBlue | 9000 Free Email's Per Month (Recommended)
Sendinblue is a marketing automation company, it has email autoresponders as a part of their services, you can use Sendinblue's free plan to send 9000 emails every month. It is used by almost 200,000 businesses worldwide. Sendinblue is first on our list of free email autoresponder tools due to its smooth UI and custom complex workflows that you can create with it. You can learn more about the autoresponder feature of SendinBlue Here to get a taste of how email autoresponders actually work?. Check out the pricing here on its website!
Here is a complete analysis of Sendinblue's pricing with its alternatives and how Sendinblue stands when you compare it to its competitors. We have also compared the features that different newsletter tools have to offer so you can make an informed decision when choosing the right email marketing service.
Sendinblue also provides SMS marketing solutions. You can set up autoresponder workflows even for SMS marketing. You can combine autoresponder emails with an SMS marketing workflow to get the maximum conversions. Check out our guide on SMS marketing and how to set them up using Sendinblue.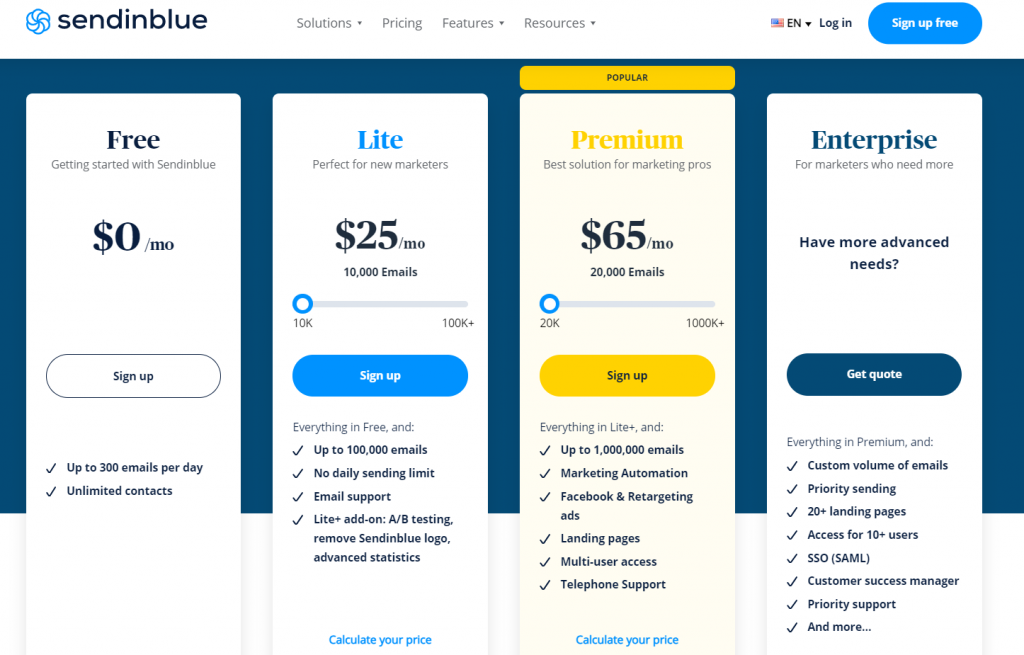 Setting up autoresponder emails in Sendinblue
You need to sign up and create a free account to set up email auto responders with SendinBlue
Once you have signed up, In your dashboard click on the Automation Tab in the header as shown below and then click on the button "create your first workflow"
Now you can either create a custom Workflow from scratch or choose one from existing sendinblue's library.
You need to Sign-Up to start with sending free email autoresponders!
1.SendinBlue Automation Custom Workflow
Hope you have Signed-Up till now!
The first step is to Set up Your WorkFlow Goal
You need to design the email template that you need to send and save it
Now just choose the custom workflow option as shown below
As you are using a custom workflow option you need to Define the entry point, you have the following options as shown in the image below
Now that you have selected the entry point you need to add the step in your workflow –
Now that we have defined your action that you want to perform, we need to add the email template that you have made earlier.
Define the conditions that you want to use.

2. Choose from SendinBlue Workflow Library
Let's take an example as to how to set up an welcome email autoresponder for new email subscribers.
Create a FREE ACCOUNT before starting !!
In your Sendinblue dashboard under the "automation tab in the header", click on "create your first workflow".
Now you must see a bunch of options in the Sendinblue's workflow library, they have covered some most popular one's. Choose the "welcome message" as shown in the image below and click create.
Now define the list for which you want to send a welcome email. (The list where you add your new subscribers). For example – At SMTPServers.co when someone subscribes to our list we add them to "blog newsletter" list to send new blog updates.
You can define the time when you want to send the email, For some important transactional emails like welcome emails, password resets, purchase order summary etc. you want to send the email as soon as the action takes place. Choose "1 minute" for Welcome email scenario. You don't want your new subscribers to wait !! Do you!! 😀
Now either "Select the template" or create a new email template to be sent as a welcome email.
You have defined the workflow, Now activate the workflow by clicking on the top right-hand corner "Activate the workflow". You should see a pictorial representation of your workflow as shown in the image below.
You can check out the Sendinblue automation feature here!
Setting up abandoned cart autoresponder emails with Sendinblue
Please create a free Sendinblue account to continue
In any eCommerce store, it is necessary to set up a system to track your visitors. Mostly eCommerce store associate a user to a unique email ID or account that your visitor uses. Now, this information needs to be tracked and passed on to your email marketing company.
Step 1 – Tracking Website Visitors
To set up abandoned cart email with Sendinblue you need to track user behaviour, you can do that with installing an appropriate plugin for your website OR if you can't install the plugin you can also set up a Sendinblue tracker.
Note – If you are using Shopify plugin you can install the Sendinblue Shopify Plugin. If you are not using Shopify you can check out the other plugin guides here
How to install shopify sendinblue plugin?
It is very easy to install the sendinblue shopify plugin –
In Shopify marketplace go to the Sendinblue app page and click "Add app"
Log in to your Shopify account.
Now that you are logged in Install the app
The plugin must be installed now, you need to give access to Sendinblue plugin for your Shopify account by clicking "Allow Access"
Once you see the connection details and all fields must be automatically generated you need to "click on Save" button
Step 2 -Tracking abandoned carts
You can track the abandoned carts and monitor the important events by the following ways (Covered just a few)-
cart_updated: When your cart is either updated or a new cart is created, use this event
cart_deleted:

When the products are deleted from the shopping cart a unique event is created

order_completed: When a purchase is made a unique event is created
You can either set these up manually or let sendinblue automation track these events, if automation is activated in your sendinblue account, please activate "Allow sendinblue to track visitor actions" in the plugin. Check out the image below for more clarity
You can also create your own customized event sets to recognize a unique action.
Step 4 – Design your email
You can either create a brand new email from scratch using sendinblue drag and drop or use email templates (108+) present.
Keep in mind to include the following in your abandoned cart autoresponder:
I want to point out that just sending a abandoned cart email is not enough to persuade your shoppers, Abandoned cart emails should be generally a set of emails that you send strategically. Here is the workflow that I usually follow –
Reminder Mail – A reminder email that your shoppers has left something in the cart
Related Items – I suggest the related items either from the same category or the ones that they viewed for more than 30 seconds
Discount coupon – I send a discount coupon on the items that they have added in the cart, with a limited time validity
Step 4: Setting up abandoned cart details
Now that you have created the abandoned cart template, you need to integrate your template with each shopper's cart so that each email that is sent is personalized. This can be done by placing Placeholders in the template.
In your autoresponder email use the images of the items in abandoned cart and links to them. Drag the image element in your template, in the image settings dialogue box in the right-hand side you must see an option of Image source, select "From URL"
Step 5 – Set up your autoresponder
In your sendinblue dashboard click 'Automation' Tab, and choose 'Create new workflow' and select the abandoned cart option as shown in the image below.
Once you choose abandoned cart workflow You will be prompted to confirm 3 unique events – cart updated, order completed & cart deleted. You can define their names if need be.
Now choose the template you want to send. And ACTIVATE THE WORKFLOW!!
Read why your email's sometimes bounce's off, can the email addresses you mention be the reason? Find out the answers to questions like are email addresses case sensitive? with our guide!!
Constant Contact

Constant Contact Is second in our list of free autoresponders as you can send 10,000 free emails with it for the first two months. Then you need to opt for their paid plan, if you are just starting out you can go for their $5 plan which will keep letting you send 10,000 emails every month. It has some of the most powerful workflows and is one of the best autoresponders in the email automation industry. To opt for it's free plan Sign up Here!. For $20 Constant Contact let's you send unlimited emails !!
Check out their pricing in detail here.
You can send welcome emails, birthday and anniversary emails, segment the non-openers and target them again, etc. Check out all the automation features here.
It is very easy to create autoresponders with constant contact. Check out how to Set up Welcome Autoresponder Emails with Constant Contact –
Before moving forward you need to Sign Up and Create a free account
Then in your dashboard click the Campaigns Tab and click on the Create button in the top right-hand corner of the Campaigns page in your account.
Then select Email Automation
Choose "Welcome Email Templates"
Choose your email template or create a new template as shown in the image below. Give your email template a name that you can recognise later.
Choose the email list the series will be associated with. Once you've finished building your email series and editing your content, you'd set the order and timing of your emails, and then activate your series to share it with your contacts.
Read more about email automation by constant contact here!
Learn how to send your emails securely, using Safest Email Provider – List Of Most Secure Emails Available On Earth!
Get Response
Get Response is a well-established name is email automation and deserves to be included in our list of free autoresponders. Get response lets you send free emails to 1000 subscribers in the trial period and after that, you will have to opt for a paid plan that starts with $15 for unlimited emails to 1000 subscribers. Check out the plans of GetResponse here
Read about autoresponders on Get Response here!
Let's learn how to create an autoresponder in GetResponse. Below are the steps for creating Autoresponder:
Click on Menu on Dashboard and select Autoresponders.
Click on create autoresponder given on the Manage Autoresponders page and create an internal name for your autoresponder message.
The next step is to choose the list which users have subscribed to and linking it to the autoresponder.
You can assign the autoresponder for specific days such as the day on which the user subscribes is Day 0. You can create an autoresponder message and assign particular days when you want to send the message.
You can select the time and days on which you want the messages should be sent out.
From and reply to addresses need to be selected.
The subject line of the message should be added.
Click on the Design message and choose if the message needs to be sent as a Google Analytics source.
Click on Save or Save and Publish as you wish.
Note: Avoid sending too many messages every day as subscribers may opt-out from the list unless they are expecting the emails daily.
While researching, I found a very good article on marketing automation by GetResponse. Read it here
Check our our guide on Free SMTP Servers, for those who don't know what is an SMTP Server?
AWeber
AWeber is another tool for easing out your email marketing requirements and launching attractive campaigns at an affordable price. You can avail the services by paying $16.15/mo when billed annually for 500 subscribers. You can try out the features in Free Trial where you can send out creative autoresponders to upto 500 subscribers. Check out the detailed pricing here.
Let's have a look at the steps of setting up an autoresponder using Aweber for your website:
Email List creation and sign up form
You can create a mailing list after you have signed up in Aweber. Fill in the details like Name and Email of Sender. Click on Next Step after you have filled in the details.
Create a list name for your subscribers.
Fill in a compelling list description that informs the subscribers of the topics you will cover and make them realize to why they have subscribed to your website. Click on Next Step once you have described your email.
The next step is to configure the email for verifying the subscriber. Don't worry about the subject lines!!! Aweber provides a list of subject lines that you can choose from. However, if you want to make your own confirmation message, you can freely do so.
Check out complete Aweber features here.
Recommendation- Choose first name as a pre-approved subject as it gives a sense of personal touch.
Once chosen the subject line, click on "Approve Message and Create List" which will then take you to Sign Up Forms creation.
You can create Sign Up forms as you please depending on your taste and style. A number of creative templates are provided by AWeber which can further help you out.
Customizing your Follow Up Sequence-
Once both Email list as well as sign up forms have been set up, audiences will start subscribing on your website. The welcome email will be the first email which will be sent out to them after their subscription has been confirmed. Don't think welcome email as just another basic email. An attractive welcome email can make or break a deal. Your future messages will depend on how your Welcome Email is seen by your audience.
You can set up your welcome message and any other autoresponder series on the Aweber dashboard. Click on Messages and then on Legacy Follow Up Series. You can use Drag & Drop Email Builder, HTML, Plain Text for creating follow up messages.
Click on Save and exit after you have completed your email. You will then be able to see newly created email in drafts list. Click on Send Options and select Add to Follow Up Series.
A Welcome Email will be sent out to every new subscribed by Aweber as and when their subscription has been confirmed.
Adding entries to Follow Up series
Once Welcome Email autoresponder has been set, it's time to include more entries. Click again on Messages and select Legacy Follow Up Series and Create a message again. You need to repeat Step 2 till the time your email is ready. Once your email is created, you will get an option as to when the email should be sent out while adding it to the already created series.
You can change the settings for sending out the emails weekly as AWeber follow up email setting is automatically configured to 1-day interval. Apart from this, you can edit the Send Window and select a specific day and time on which you want your email to be sent out. Read here for the Best day to send your emails.
After changes have been saved, you will be able to see new message below the welcome email message.
You can create and add a number of emails to the autoresponder. Apart from this, the order of messages can be re-arranged by the drag and drop option on the Legacy Follow Up section.
.
Check out the Email autoresponder feature of Aweber here.
General FAQ
What are email autoresponders?
Email Autoresponders are the automated emails that are triggered by when either you provide a set of information (Anniversary or welcome emails) or an action (abandoned cart etc.) set's off a workflow. When you perform a certain action in a website or a web app and it triggers some automated email it is termed as an email autoresponder. All the anniversary, birthday discount coupons that you receive for various brands are automated emails that are sent by email auto responder tools. Password reset's, new subscriber emails, Any new blog post update, Educational email's regarding some new features in software, etc. all are autoresponder emails.
Which autoresponder is the best?
I have being using the SendinBlue and Constant Contact for quite some time and had a great time with these two and will recommend using these free autoresponder tools. They are well established players in marketing automation domain so I guess your emails will be in a safe place.
What is an autoresponder and how does it work?
Emails, SMS or chatbots all comes in the category of Autoresponder, which can be narrowed down to which category you choose. Autoresponders are triggered by ones actions. Like a welcome email, abandoned cart email. You can set up all the details like determine the best time to send emails, abandoned cart autoresponders, resend emails to non-openers using any of the free autoresponder tools.
How do I create an autoresponder?
You can easily set up autoresponders for various purposes, Here are some of the links below on how to set the following automated workflows –
What is the best autoresponder software for email marketing?
Here are some of the best autoresponder softwares for email marketing –
SendinBlue | 9000 Free Email's Per Month | No Credit Card Required (Recommended)
Constant Contact | 10,000 Free Email's Per Month | No Credit Card Required (Recommended)
Get Response | Unlimited Free Emails to 1000 contacts
Aweber | Unlimited Free Emails to 500 contacts
Read the article on SMTPServers.co to learn how to send free autoresponders using these services efficiently.
What is the best free autoresponder?
It is difficult to go for any one best free autoresponder tools, I will go these four free autoresponder tools which provide you some limited features in the trial plan but still you can use them to create awesome workflows –
SendinBlue | 9000 Free Email's Per Month | No Credit Card Required (Recommended)
Constant Contact | 10,000 Free Email's Per Month | No Credit Card Required (Recommended)
Get Response | Unlimited Free Emails to 1000 contacts
Aweber | Unlimited Free Emails to 500 contacts