With all the businesses moving online, there is an unavoidable need to promote it. Small and medium businesses struggle the most we at www.SMTPServers.co are determined to help them keeping their costs down and achieving their goals. This article is focused both on who is searching for free email services for email marketing and want to use them to send free emails, don't worry we got all the answer's you are looking for or anyone who is looking at email account service providers that help business owners in receiving emails for their personal use.
In my digital marketing career, I have seen several brands make and break due to their email marketing strategies. If you type anything online like what is the "ROI in email marketing" you will find several articles that claim that you get a return of anywhere around $30 to $40 for every $1 that you spend. I would say they are a little over-optimistic!! But yes I have seen people getting anywhere around $10 – $15 return on every penny you spend, conditioned on you are able to segregate and automate your onboarding series and give the clients exactly what they want at a time they want the most.
This website is a small effort to share the insight's I have gained, the mistakes I have made so that you can learn and save yourself from doing these, I have written content keeping in mind the beginner's that are not at all aware of email marketing services and how things work. Let's dive right in!
We will cover the following topics in detail in this article –
Popular best free email services for email marketing+ how to use them to send free emails (steps covered)
Let's first start with the best free email services available online –
Popular best free email services for EMAIL MARKETING + How to use them to send free emails (steps covered)
1. SendinBlue | 9000 Free Emails | Every Month | No Payment Method Required
This is the talk of the town currently, founded in 2012 by Armand Thiberge and Kapil Sharma. It is an all-in-one marketing platform for email automation, email marketing, and lead generation. SendinBlue lets you send free emails every month To unlimited subscribers and is number one is our list of free email services. It's one of the best mail services for small & medium businesses.
You can use SendinBlue for sending free emails every month. Here are some of the things that we have covered regarding SendinBlue for you in this article.
Pricing Plans of SendinBlue
SendinBlue is sure #1 email service for all your marketing needs, from email marketing, landing pages to SMS marketing they have everything build in one dashboard. They are determined like us to help small businesses scale, that is evident in their pricing plans they provide 9000 free emails every month. But that is restricted to 300 emails daily. The best thing about their pricing is it is not restricted to any number of subscribers and you can send the free emails that are allocated to you, to any no. of recipients. You can check out the sendinblue pricing plans in detail here.
If you have to send more than 9000 emails per month you can always subscribe to their light plan, which starts at $25 which lets you send 10,000 emails every month without any daily spending limit. You also get email support. For an additional $12.5 per month, you can make your light plan as light+ which gives you additional features of A/B testing, remove Sendinblue logo, advanced statistics. If you think Sendinblue is the right fit for you, check out the detailed SendinBlue Review by www.SMTPServers.co
The best thing that I like personally about SendinBlue is the ability to store unlimited contacts even in free plans, which even most of the popular email providers like Mailchimp do not let you do. Read the comparison between Mailchimp Vs SendinBlue here.
Why choose SendinBlue? (Features Covered)
In this part I will cover all the features of SendinBlue and why you should choose SendinBlue as your free email service –
SendinBlue provides you with amazing A/B testing So that you can become better with each campaign you send. You can do stuff like send-time optimization and automate for every recipient the optimum time they send the emails.
The best Drag & Drop no dought is of the Constant Contact, but Sendinblue's Drag and Drop is close second with more than 100 email templates, They will definitely have something in store for you. You can learn how to use SendinBlue's Drag & Drop feature here.
The CRM they provide is also very efficient and easy to use, their CRM can be easily used even by beginners and it is self-explanatory, you can import your contacts data and even add notes for every individual recipient. You can read more about it's CRM here.
You can enable advanced features with just $12.5 per month with their Lite+ add on to the light plan.
With SendinBlue's transactional email feature you send emails using SendinBlue Plugin on the WordPress platform. Transactional emails are the automated emails that you get when you activate the trigger like welcome emails when you subscribe to the newsletter.
SendinBlue supports integrations with all the popular platforms like WordPress etc.
SendinBlue comes loaded with advanced features that help you achieve your marketing goals and definitely, offers some of the most advanced features among the email services around the globe. Check out the images below which sums up all the features that you get.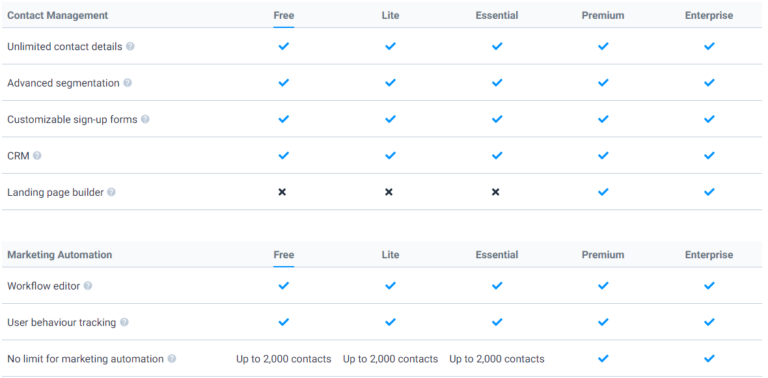 Learn how to do "SEND TIME OPTIMISATION" and increase your sales with our guide on the Best time to send your emails
2. Constant Contact |10,000 Free Emails | Payment Method Required

Constant Contact is the most popular email automation and email marketing service, provider. They have recently ramped up their website and both constant contact and SendinBlue are going head-on with each other to capture the complete marketing automation market they provide landing pages, subscription forms, autoresponders, etc.
Constant Contact is one of the oldest email marketing services out their. Earlier their website was not that appealing (I found it dull) but now with the new website launched they are totally ready to take on all the competitors. It gives a new vibrant look. I recommend constant contact for email automation and lead generation. They also have very powerful integrations.
Pricing Plans of Constant Contact
It has very reasonable pricing plans, it lets you send 10,000 free emails without any daily sending limit to unlimited subscribers. This is only valid just for the first month after that you need to chug out $5 every month to get 10,000 emails. After that, all the email plans are based on the number of subscribers that you have, suppose you have 500 subscribers you can always go for their basic plan in which you can send unlimited emails for just $20.
You can check out the constant contact plans in detail here.
If you go for a 6 monthly plan and pay in advance you get a 10% discount, If you go for an annual subscription you get a discount of 15%.
Let's look at the subscription-based pricing in detail –
10,000 emails | $5 | Every Month
Unlimited Emails | 500 Subscribers | $20 | Monthy + (First Month Free)
Unlimited Emails | 500-2500 Subscribers | $45 | Monthy + (First Month Free)
Unlimited Emails | 2501 – 5000 Subscribers | $65 | Monthy + (First Month Free)
Unlimited Emails | 5001 – 10,000 Subscribers | $95 | Monthy + (First Month Free)
Unlimited Emails | 10,001 – 15,000 Subscribers | $195 | Monthy + (First Month Free)
Check out Constant Contact Pricing Plans in Details !!
Why choose constant contact? (Features Unveiled)
There is a reason that Constant Contact is around for the past 20 years and in undoubtedly a strong contender to the crown of email marketing and automation. It is because of the amazing features it has to offer. If you are getting impatient before we start discussing these you can check it yourself CC features here.
Let's discuss why you should choose constant contact as your free email service –
They have fabulous autoresponders and you can trigger transactional emails using constant contact effortlessly, you can send password reset emails, welcome emails, etc. in no time. You can read about the complete features here.
If you are running your eCommerce business and are looking for a flawless service to send confirmation emails or abandoned cart emails constant contact is the right service for you. For your eCommerce business, you need just the best email service, you don't want that someone buys a product from your site and they do not receive any payment confirmation email, they will straight away the freakout and your brand image will be tarnished.
Constant Contact has one of the most efficient drag and drops editor. They have more than 100 email templates that you can edit as per your need and you will be ready to send emails before the blink of an eye. In June 2020 they have launched a new third-generation block editor.
3. Elastic Email | Unlimited Emails | 10,000 Contacts | $10
This is the hidden gem I found out when I was doing my research regarding the best email services online. Elastic Email is a relatively new company that was started in 2010. They are super user-friendly and they focus on providing easy UI so that even the people who are not technically sound are able to use it.
This service, Elastic Email has taken email services by storm, the pricing is very affordable and you can use it to set up amazing email automation, also you don't have to worry about your sending limit as they let you send unlimited emails to 10,000 subscribers for just $10. They are best for transactional emails also they have rolled out an email verification service, which is currently in beta.
Pricing Plans of Elastic Emails | Unlimited Emails | 10,000 Subscribers
Elastic Email is more focused on providing an easy email service experience to nontech people so that they can automate their emails easily. The best part is they let you add unlimited subscribers. They have some professional-looking email templates.
Let's look at their email marketing pricing, to help you get a better picture about their affordability –
$10 | Unlimited Emails to 10,000 contacts
$25 | Unlimited Emails to 20,000 contacts
$40 | Unlimited Emails to 30,000 contacts
$70 | Unlimited Emails to 50,000 contacts
Let's look at the pricing for email API and SMTP, they offer two plans –
$0.09/1000 emails | Pay as you go pricing for SMTP and HTTP API senders
$0.10/1000 emails | Go pro when ready for the complete API experience.
Why Choose Elastic EMail as your Best Email Service?
Elastic Email has all the right tools to get you started with email marketing and automation, they have gained huge traction from small and medium businesses. And the pricing strategy is just amazing, I have closely seen them grow and I love them the way they have made their space in a very competitive market. I recommend using elastic email.
Here are some of the reason's why I love what I see –
They provide awesome email automation, you can target person's with high open rates differently than the less interested customers that do not open your emails, you can segregate between the two and create separate funnels for both so to increase your conversions and decrease your cost (by avoiding targeting persons, that are not interested). Start your email automation journey with Elastic email.
Elastic Email is also perfect for eCommerce API's you can automate your transactional emails, like the welcome email when someone subscribes to an email newsletter, or password reset email, abandoned cart emails, etc. Start with eCommerce API's
You can send dynamic content to every recipient according to their behavior with your brand, Like if some potential customer is looking at a product, and added that product to the cart but do not buy it, you can send a discount coupon for that particular product. Check out Elastic Email's dynamic content feature in detail here
4.150,000 Emails | $25 | Developer Friendly | Pepipost
There are hundreds of email services available today, and the number is growing rapidly. I have especially compiled the list of best email services for you. The fourth in our list is the product by Netcore, Pepipost. It is a new start-up, which was founded in 2015 by developers. It specializes in SMTP or simple mail transfer protocol, for those who don't know what is an SMTP server, or you want to understand how SMTP works we got a detailed article for your better understanding.
Pricing Plans of Pepipost
Pepipost is one more affordable solution to send free emails, it lets you send 30,000 free emails when you sign up, in the trial plan. Which is valid for one month. Once the free plan is exhausted, you can still send 100 free emails forever. The pricing is very affordable and it deserves to be included in our list of free email services. If you have a little budget then this player is the most economical solution for you. Let's look at its pricing in detail –
$25 | Monthly | 150,000 | Extra 1000 emails for $0.60
$85 | Monthly | 400,000 | Extra 1000 emails for $0.55
$145 | Monthly | 600,000 | Extra 1000 emails for $0.50 & So On!
If you wish to pay annually the pricing is very affordable, you get a discount of 30% on pricing, so you can send 150,000 emails for just $17.5.
Why choose Pepipost? ( Features Covered)
Let's move forward with what Pepipost has in store for us –
1000 List Size | $15 | GetResponse
Getresponse is also a good choice, it makes number 5 in our list of best email services, The UI and UX is good with a freshness in their email templates, their editor is also quite good. This is best for bloggers and affiliate marketers.
Pricing Plans of GetResponse
You can send unlimited emails to 1000 subscribers, also you get one month's free trial. The highlight of Get response is it let's you conduct webinar as well of upto 10 persons in the free plan itself. Some of the things that you get in free plan are as follows –
Free Webinar for up 10 persons
Unlimited Emails to 1000 persons
Landing page designing ( limited to 1000 visitors )
For paid plans if you go for paid plan for monthly basis check out the details below –
1,000 Subscribers | Unlimited Emails | Monthly | $15
2,500 Subscribers | Unlimited Emails | Monthly | $25
5,000 Subscribers | Unlimited Emails | Monthly | $45 & So on
If you go for yearly payout the basic plan will just cost you $12.3 i.e. you get a discount of 18% and if you go for pre-payment of bi-annual plans you get a 30% discount!
GetResponse Features
I love their UI and you can send completely automated transactional emails, using Get Response.
It also lets you send dynamic emails according to your recipients, customised emails help you to get a personal touch and increase your conversions many folds.
Transactional emails when targeted according to the triggers that your potential customers start, give a very good conversion.
Which free email services are the most cost-effective? | Price comparison
| | | |
| --- | --- | --- |
| Service | Price | Free Emails |
| | Plans vary from FREE to $66 per month | 9,000 emails 1st month limited by 300 daily |
| | Plans start from FREE | FREE emails to 500 subscribers for 1st month |
| | Plans Start for FREE | FREE unlimited emails & All premium features for 1st month |
| | Plans start from FREE to $311 per month | 30,000 emails for 1st month then 100 emails daily |
| GetResponse | Plans starting from FREE to $99 per month | Unlimited Mails to 1000 contacts for 1st month |
The most popular email account services that are free (For Personal Use)
Now that you are, well aware of the free services, about email marketing let's look at the free email account services offered for personal use, we have covered the most popular service i.e Gmail + Its competitors, I have thoroughly gone through the free account providers and have come up with all the best email account services, so let's dive right in –
Best free email account services –
1. Gmail
Every one knows Google, It is the biggest tech giant that can be, Gmail is a webmail service by Google, that offers email as a free service along with google suite that has a google drive feature where you can save your files, images, etc. The sign up to Gmail is easy and convenient (you just have to decide your unique email address and set up a password, It has also rolled out google meet that can let you conduct virtual meetings.
With google suit, you can conduct video conferencing, set reminders, store your files, and folders to name a few of the features. They are literally endless. Your Gmail account can be used to login to various other accounts as well. And all these features come free of cost. It has a very easy to use and a very good user interface to makes things organized in your already chaotic life!
As it is the most popular service, it is the favorite of hackers as well, Gmail account is vulnerable to hacking attempts and your information can be leaked. So that's why we have also covered other free email account services as well.
2. AOL
AOL is the best Gmail alternative, as Gmail has a storage limit of 15 GB, AOL caters to this issue as it provides UNLIMITED STORAGE! AOL has very smartly focused on Gmail's shortcomings to make a name for itself in the email account services industry. It provides unlimited storage + safety through encryption to your emails, so that it becomes very difficult for any hacker to read your emails or access your information.
AOL was acquired by Verizon in 2015, earlier AOL was sometimes referred to as America Online Mail as well. AOL is second in our list definitely, it should have been first but due to the popularity of the Gmail email account service, I have decided to have it in the second position. It features definitely at par with other email account services out there.
You can try out the magic of AOL for yourself Sign up here for free. According to me AOL is one of the best email account services available out there. Some of the features that makes it second in out list are –
Unlimited Storage
Encryption of emails
Virus protection
Spam Filters
Import contact's using TXT, CSV or LDIF
3. Outlook
There are three types of email services, webmail, POP, and email client type of services. The outlook is a client type of email account service. Companies usually use outlook due to security reasons and they do not want the conversations to be leaked that can have a huge effect on any companies working.
Outlook is at par with other email account services out their, let's look at some of the features that makes outlook at 3rd position in our list –
Email Scheduling
Schedule management ( Meetings, reminders, tasks, etc.)
Keyboard Shortcuts
Calendar sharing
Connect different apps ( FB, Skype, Paypal, etc.)
Task Management ( integrate with software like Trello etc. )
Creating and managing rules
Start with Outlook right away !!
4.Proton Mail
I am quite sure you must have heard the name of Proton Mail, which is one of the most secure email account services out there, and We love Proton Mail due to the kind of safe environment they provide. Their motto is simple to provide a safe mailing experience for free. It is a webmail type of email account service.
If you have to share any sensitive data or information, proton mail is the place to be. We recommend using ProtonMail for privacy!!
Let's look at some of the offering's by ProtonMail in the free plan –
500 MB Free Space (when you are providing the most secure email service in the world, every MB matters)
Word-Class Encryption (Hacker's nightmare)
Don't need to download any additional software to your Device
Awesome UI and UX
Color-Coding of your Emails according to the type of security they require
Read more about ProtonMail Security Features here.
5. Mail.com
This is #5 in our list of free email account services is the Mail.com, full marks for their innovation. You can customize your later domain name for your email address, yeah you read it right you can choose from 200+ domain names.
Suppose you are a doctor you can have your email account address as [email protected] or you are an accountant you can have your email address as [email protected] Which I personally liked it increase your authenticity when you mail to some unknown person.
Some of the features of email account at Mail.com are –
Smart Chrome notifications
Email Alarm
2 GB file storage
Collection of mails etc.
200+ Custom domain names ( To avoid discovering the mail service you are using )
Check out the complete tools offered by Mail.com here.
General FAQ Questions –
Which is the best free email account service?
Which is the best free email account?
There are hundreds of free email account services available out there, It actually depends totally on your needs, here are some of the email account services that are free according to your needs –
Which is the best email provider?
Some of the best email providers are –
What is the best free email account?
Following are the best free email accounts available out there-
Mail.com – Custom Domain Names, so no one knows which email service you are using, be anonymous
Outlook – A free email account on Outlook.com is just as useful as its counterparts the Gmail and Yahoo, with the added bonus that it's easy to 1. Offers folder organization 2.Apply "sweep" rules to keep your inbox clean 3.Create email rules just like you do in the Outlook desktop app
Proton Mail – It is one of the most secure and popular free email account service available, you can create Folders and labels to organize your inbox and it provides you with 2-Factor encryption, and the ability to see all sessions logged into your account.
Gmail – The most reliable best free email account provider out there
GMX Email – GMX is one of the most deceptively simple free email accounts on the planet that looks, but there's much more than meets the eye.
Yahoo Mail – Yahoo mail is also gaining its share in the free email account providers market. With 1 TB free storage.