constant contact
$0 - Trial Plan (60 Days)
FB, Insta & Google ads
8.5/10
Pros
Automation
FB, Insta & Google Ads
Hundreds of email templates
Landing pages, Logo maker, Forms
Good deliverability
Cons
Phone support only on weekdays eastern time
Automation can be difficult for beginners
Limited trial plan
Expensive
With a shift from brick and mortar to click and mortar, businesses need to buckle up their online game, especially when you are an email marketing firm. With the competition level heating up, you need to promote your services as well as products online and there is no better place than Constant Contact, a marketing automation business to help you out. In this article, we will discuss the Constant Contact review in detail.
If you are looking for launching an email campaign, generating social media awareness, building websites, adding products, boosting sales, Constant Contact offers you all the tools in a single platform. It was started in 1995 as a marketing tool company focusing on helping small businesses to grow and now operate as a part of the Endurance Group. Constant Contact has added various new features such as social campaigns and surveys. Not only this, Constant Contact focuses on product niches along with providing integrations with some amazing apps.
We will cover the following topics under Constant Contact Review:
Constant Contact vs Mailchimp – Complete Analysis
Constant Contact Price
Pricing plays an important role if you are a new or small business. The online market place is becoming price competitive. To remain in business, you must think that money is the most crucial part, however, you can leave everything on Constant Contact and focus on other important functionalities of the business. The company offers affordable pricing plans along with some amazing features.
Let's check out the email marketing plans below:
The core plan starts with $9.99/mo which is based on the number of contacts. Under this Email plan, small businesses can create not only professional emails but also build strong customer relationships which is crucial in today's scenario. Here are the plans in detail
The Plus plan starts with $45/mo, based on the number of contacts. You can explore more features that will engage your audience and better results can be achieved through automated emails.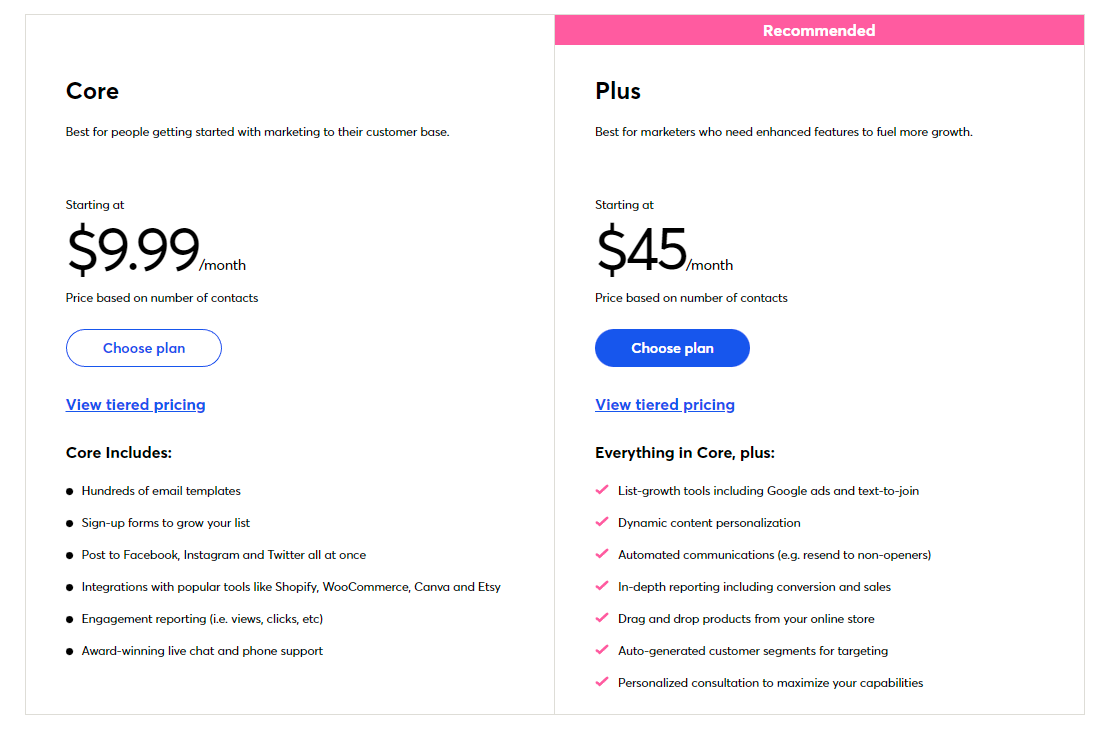 The Email plan will provide the users with access to unlimited sends of email marketing campaigns, eCommerce marketing, tracking, and reporting. However, features like Advanced eCommerce marketing, Automated series, surveys, polls are accessible on the Plus plan only. There is no compromise on the security in any plan, including the FREE trial. Yes, you got it right!!! Constant Contact offers its users free access for 60 days. Just click here to start with your free trial.
Check out the differences in the Core and Plus plan –
| | |
| --- | --- |
| Core | Plus |
| No access to advanced Automation feature | Unlimited access to Advanced automation feature |
| Core plan allows only 5 account users | Plus plan allows unlimited users |
| 1 GB of Document and image storage is provided | 2 GB of Document and image storage is provided |
| No access to Surveys | Create and share as many surveys as you want |
| Constant Contact branding cannot be removed from pop up and inline contact sign up forms | Can remove branding in pop up and inline contact sign up forms |
| Only 1 pop up sign form is allowed and timing cannot be customized | Multiple pop up forms can be created and timing can be cusitomized |
| No access to action oriented and dynamic content blocks | Access to both action oriented and dynamic content blocks |
If you are a non-profit organization, then you are just in the right place. Constant Contact offers upto 30% off. 30% discounts for 12 month and 20% for 6 months prepay respectively. Isn't it exciting!!!
Apart from this, Constant Contact provides the option of Website Builder to its users at a price of a mere $10/mo. Users such as small businesses can use this for brand building, selling online, and generating leads.
Choose your plan and let Constant Contact help you in driving your business!!
If you don't like the pricing plans of Constant Contact you can always check out other SMTP FREE SERVERS for it's alternatives.
Is Constant Contact free?
Constant Contact offers its subscribers a 60-day free trial. Users can check out the services in the trial period and can choose the best plan for themselves. They have access to some of the amazing functions and can look into the campaigns results as well. After the free trial period is over, users can choose from Core and Plus plan which starts from $9.99/mo and $45/mo respectively.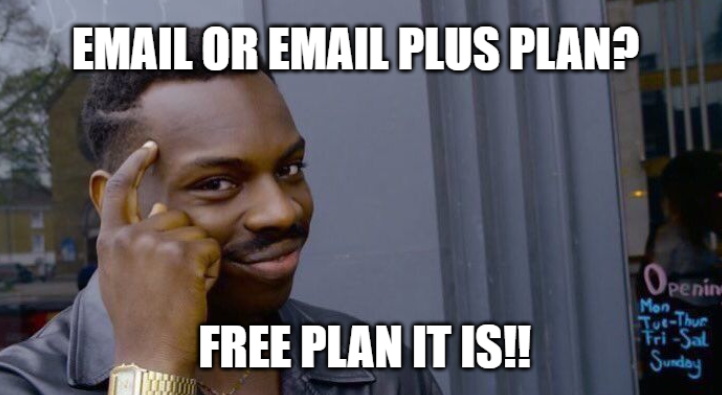 Constant Contact Features
What distinguishes a business from its rivals are the services and features they offer to their subscribers. With the competition level heating up, it is necessary to provide the users with an exceptional level of services. Constant Contact is well aware of this and offers a number of amazing features to help small businesses to thrive in the online world. Let's check out in detail the major features offered by Constant Contact.
Constant Contact is the perfect mailchimp alternative you can check out the complete comparison of constant contact and Mailchimp here.
We will cover the following features of Constant Contact –
Constant Contact: Easy List Creation
The first step of email marketing is to create a list of your subscribers. Constant Contact eases out your pain and provides you with many ways to upload your contacts. You can either choose the most basic method, i.e., copy and paste or you can upload a file, import contacts from Microsoft Outlook and Gmail as well. Segments can be created and tags can be assigned for tracking the users based on interests, preferences, purchases, location and many more. You can check out here how to upload contacts in constant contact.
However, if you want to include any other detailed information to a number of contacts, you need to load each and every record and then update them which can be a tedious task. Constant Contact offers its subscribers landing pages, apps, and integrations with your favorite marketing tools and apps like Facebook, Shopify, BigCommerce, EventBrite, Outlook, Gmail, and many more. Click here to have a glance at how Constant Contact integrates the apps.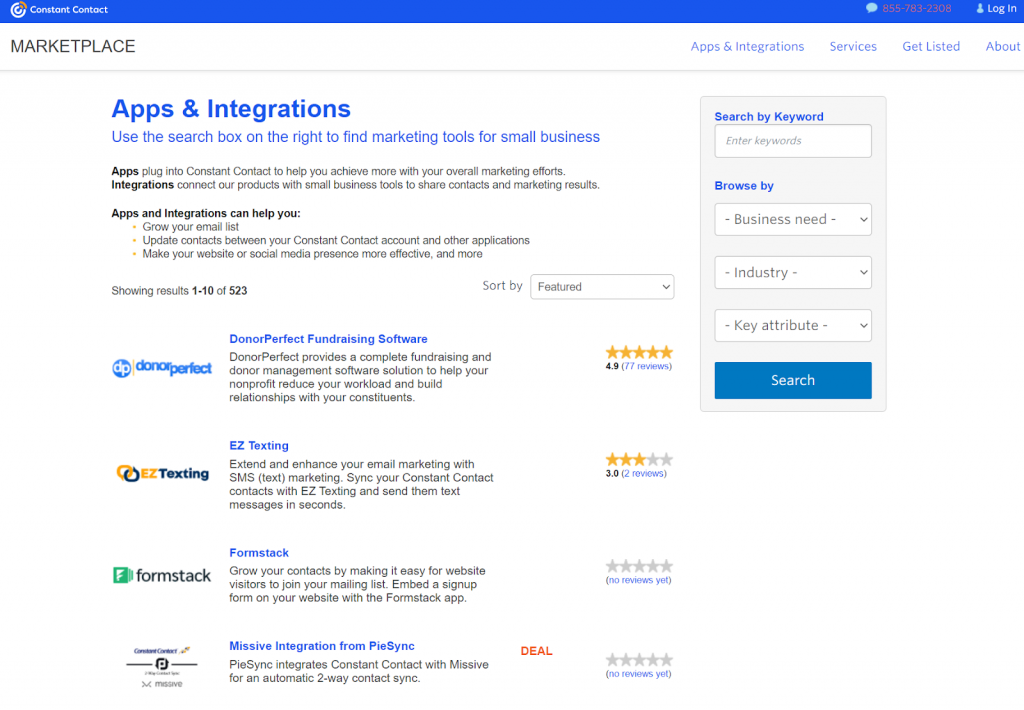 Constant Contact: Setting up campaign
You can create or set up your email campaign from a variety of options such as Email, Email Automation, Ads, Event, Survey, and Landing Page. Campaigns can be searched by keywords/date and Recent opened Tabs. Not only this, Constant Contact makes sure that you don't forget to send your campaigns on holidays or other major events and hence offers its subscribers an integrated marketing calendar.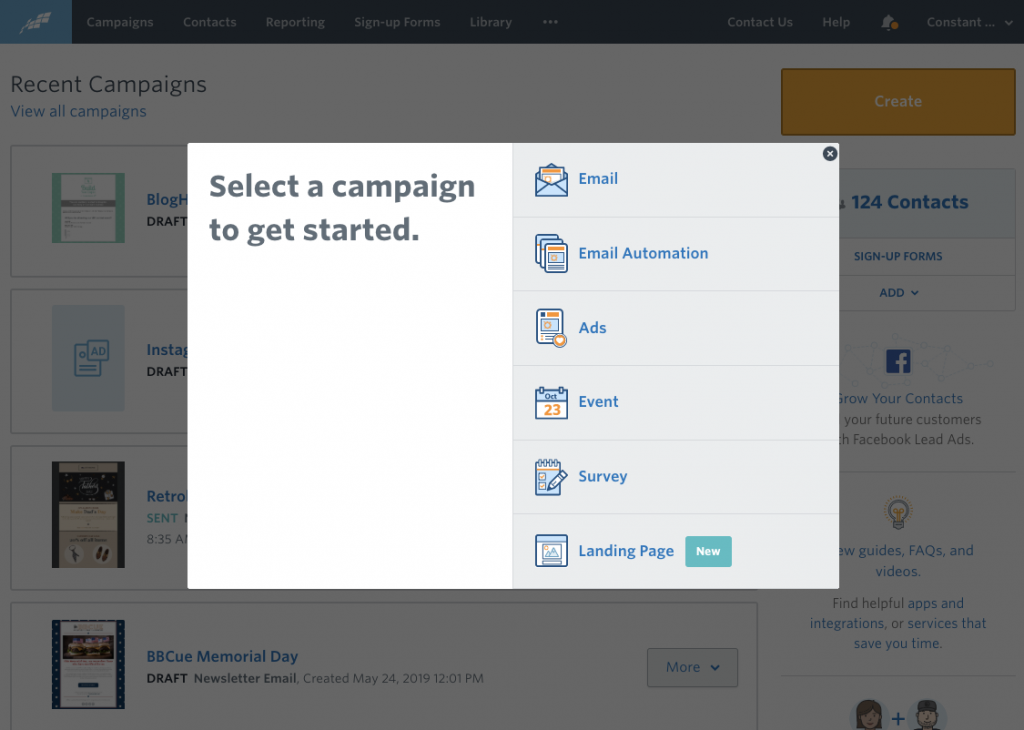 Attractive and informative email campaigns can be created with the help of a number of innovative templates. A variety of templates are offered which satisfies most of the use cases, however, sometimes designers might think that the templates are limited when it comes to customization.
Apart from the templates, Constant Contact offers its subscribers a drag and drop editor with which you can play with your campaigns and design them as you wish. Below is an example of an email template in which you can insert images, text along with integrating with Shopfy, Eventbrite. Constant Contact has everything for everyone on its plate. Create your account and see for yourself what Constant Contact has to offer you.
The Email Marketing Automation feature helps in segmenting contacts and engaging them by sending messages to the right audience at any time. Campaigns can be sent automatically to non-openers segment saving you a great deal of time and effort.
Constant Contact: Email Marketing Automation
Constant Contact helps in creating an automated series also known as an autoresponder. Have you ever come across the thought of how you get a personalized email just when you log in or make a purchase? It's a game of automated series which every marketer plays with. Constant Contact helps you in setting up creative automated emails to welcome subscribers or a relevant email series along with following up emails can be sent automatically.
Read our guide on what are drip campaigns and how to use them for converting clients.
The emails are sent after a trigger has occurred for example if a user has expressed interest by clicking on the "Learn More" link, an automatic email will be sent out for follow-up information. In the below image, the trigger for the automated series is when the reader opens the email. Subscribers with an Email Plus plan have unlimited access to advanced Automation features.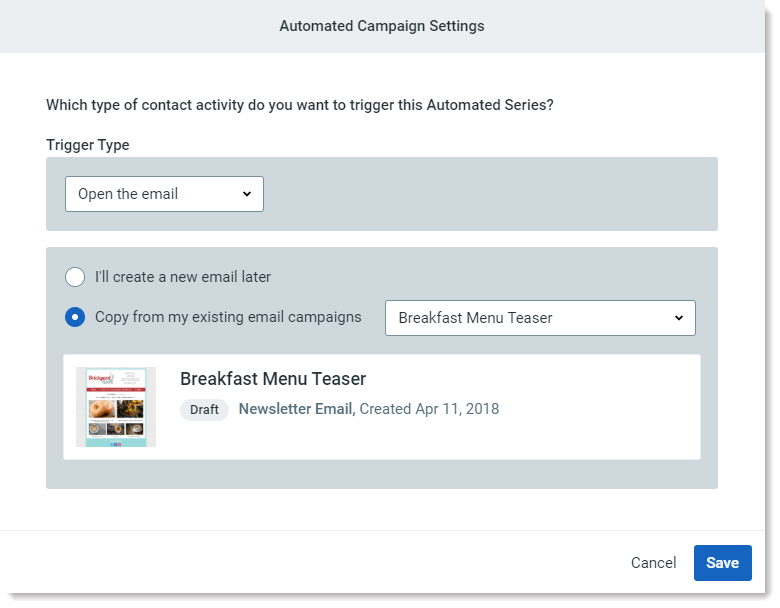 Did you Know? As per Epsilon Email Institute, the average of automated email campaigns has 70.5% increased open rates. Not only this, but click-through rates are 152% high as compared with the usual/normal marketing campaigns/messages.
Constant Contact: Efficient Campaign Tracking
Every email marketing platform offers its subscribers the feature of campaign tracking, however, what makes a difference is an ease with which you can track your campaign's performance. Constant Contact provides its subscribers the much-needed ease to track the success of email campaigns through Reporting Tab. The open, click-through, bounce rates, and unsubscribed rates can also be seen in the dashboard along with graphical representation.

To help its users to understand the report, video tutorial has been created by Constant Contact which not only help users in giving suggestions as to how create some amazing subject lines but also the ways to improve open rates. Isn't it exciting!!!
Constant Contact: Awesome Support Team
Are you stuck on a topic or don't know how to do a particular task? Just ask the amazing support options provided by Constant Contact to help you out to reach your goals and complete your task. A number of options starting with Information options are given which are not only easy to use but also helps in understanding what is the function of every field. Apart from this the customer support system, chatbox, and phone support are available to ease out your queries. The phone support is not accessible 24*7 however the timing is pretty much generous. Also, coaches, knowledge-based articles, and help are given on every Constant Contact dashboard.
Constant Contact Affiliate Program
The Constant Contact affiliate program is one of the best programs when compared in the email marketing world. Constant contact pays $5 for leads, i.e., even for the free trials where there is no need of sharing credit card details. Also, $105 is paid by Constant Contact when referrals pay for an account. You can earn a lot as there is no limit on commissions. With the reliable tracking system, you can check how many leads signed up for the free trial and how many converted to sales. Constant Contact Affiliate Program works in a totally transparent manner since all the data can be tracked. Read to know more about the Affiliate Program.
Constant Contact Alternatives
Let's have a look at the different alternatives and compare their prices –
| | | |
| --- | --- | --- |
| Sever | Price | Free Email Trial |
| Constant Contact | Plan varies from Free to $9.99/mo | Limited emails can be sent to 100 contacts |
| SendInBlue | Plan varies from Free to $25/mo | 300 emails per day can be sent to unlimited contacts |
| GetResponse | The plan varies from Free to $13.3/mo | Unlimited emails for a month limited to 500 contacts |
| Elastic Mail | Plan varies from Free to $50/mo | 100 email per day can be sent |
| Pepipost | Plan starts from Free to $349/mo | 30,000 emails for first month and then up to 100 emails daily |
Conclusion
Constant Contact offers small businesses a platform to build their dream and achieve them. With a number of amazing features and affordable prices, Constant Contact has helped businesses to reach out to their audiences in the most innovative manner. The competition level heating up has not stopped the company to offer its services in the best possible way with strong support teams waiting to help out with all your queries. Get a free trial and know for yourself how Constant Contact helps you out in generating leads and converting them into actual customers. We hope this constant contact review helps you 🙂
FAQs
Is Constant Contact good?
Constant Contact is an amazing platform and an affordable choice for small businesses. The marketing tools provided by Constant Contact are inclusive of advanced features like integrations, email marketing automation, and reporting tools as well. If you have any doubt regarding constant contact alternatives you can check them out here.
How much is Constant Contact costs a month?
You can start using constant contact for free for 2 months. After that Constant Contact offers Email and Email Plus pricing plans. Email plan starts at $20/mo and Email Plus plan starts at $45/mo which is based on a number of contacts. You can check out the complete pricing of constant contact here.
What can Constant Contact do?
Constant Contact provides solutions such as email/event marketing, survey management, reporting, social campaigns. These are either available independently or as a Constant Contact Toolkit. You can check out the complete constant contact review here.
Is Constant Contact legit?
Constant Contact is an email marketing tool that is a perfect solution for small businesses' needs. The platform helps new businesses in marketing automation and building a brand presence0.