The world is fast-changing, the need of automation is evident and ever-growing, some think that Email marketing is losing its lustre but I think that it is the bridge that holds the complete digital marketing together. It connects Facebook ads, chatbots, funnels its basically everywhere. In this article on Sendinblue vs Mailchimp, We will cover these hidden treasures.
To back my words here are some statics regarding emails for you –
87% B2C businesses use email marketing
Email marketing is the most trusted source to nurture and convert leads.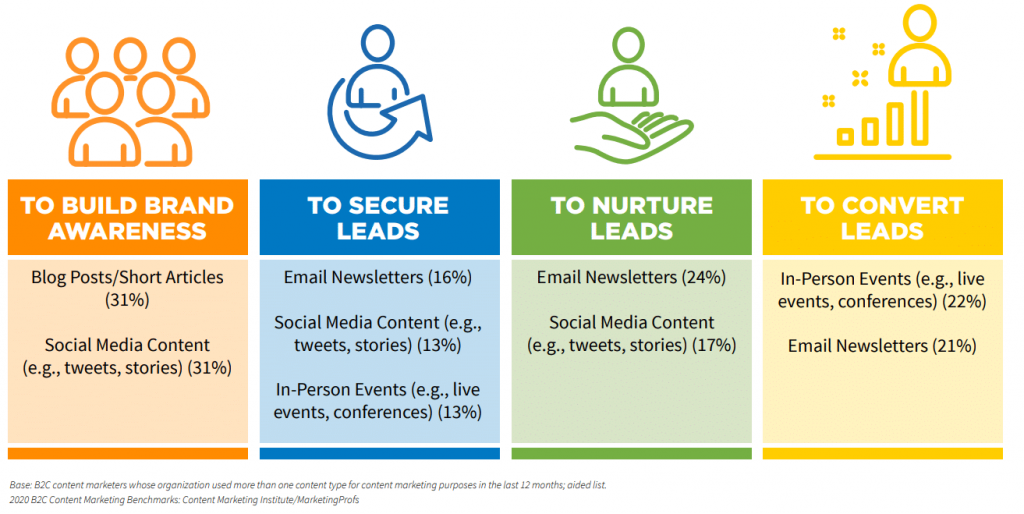 If you talk in monetary terms Email Marketing's ROI is around 3800% that means you get $38 worth of return for every $1 to spend in email marketing! Shocked? Email marketing when done right can be very rewarding, but with so many tools available online, one tends to get confused and chooses the wrong tool which drives the cost without offering you advanced features.
Sendinblue and Mailchimp both are very good choices as your email marketing platform. So we will explore the different features offered by both the players and try to figure out which one you should choose according to your needs.
We will cover the following topics in this article on sendinblue vs mailchimp –
What is SendinBlue?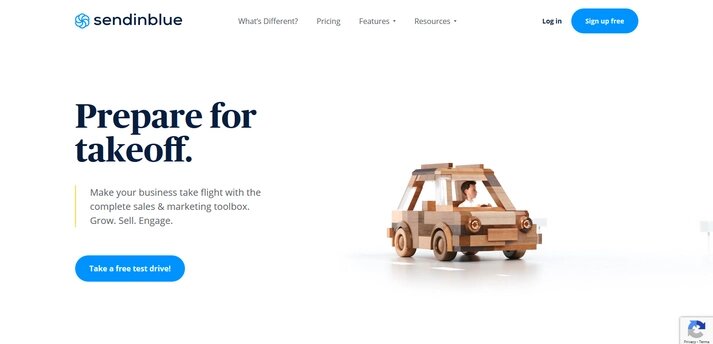 Sendinblue is one of the fastest-growing marketing automation companies, started in 2007, in 14 years it has become one of the most successful marketing companies online, they help small & medium businesses grow through their marketing tools (SMTP Server, Facebook ads, SMS marketing, embedded forms, funnels, etc.).
It was commenced with a vision to help companies grow by bridging the communication gap between customers and companies. It helps in creating a better experience and interaction with your users. SendinBlue has its offices across the globe (Germany, France, Switzerland, India, etc). More than 175,000 companies use Sendinblue.
You can try out their Free plan here, and start sending free 9000 emails every month.
What is MailChimp?
I am quite sure you must have heard about Mailchimp if you know anything about digital marketing, Mailchimp is the market leader in email marketing and automation services. It is an old horse which started the race early. Commenced in 2001 it started out with a focus on small businesses. By offering free emails to 2000 contacts.
Mailchimp's growth story can be tracked, to empowering small businesses with tools like postcards, google ads, Facebook etc. Which evolved to become an integrated marketing platform for your marketing needs.
You can easily send drip marketing campaigns using both the services!
Sendinblue vs Mailchimp
Let's see who wins according to different features in the ultimate email marketing showdown of SendinBlue vs Mailchimp. We will analyse the pricing, automation capabilities, designing, transactional email feature etc.
SendinBlue Vs Mailchimp Pricing Comparison
We all know that any businesses sole purpose is to make a profit, It is true for all sizes of businesses. When you are starting out most business owners are cautious and lack the required funds to opt for good services. They are the ones who need better service at the most affordable price as they don't have the capacity to try out new services. If you are looking at sending a huge amount of emails, you can opt for Sendinblue SMTP, here is a list of free SMTP server providers by us. If you are new to email marketing and does not understand what is an smtp server. Sendinblue is very reasonable if you look at it's higher plans.
The biggest disadvantage of MailChimp is if you are looking at its free plan, the 2000 contact list gets exhausted very fast when you compare to other email providers as if any user in Mailchimp has given its email address but yet to confirm the email address they count it as a separate contact. Whereas many other email providers, until your contacts confirm it's email address (if your provider has double opt-in enabled) will not be considered as a separate contact.
Check out Sendinblue Pricing here
Both Sendinblue and Mailchimp provides a free plan for it's users, let's look at the features these both platforms provides in it's free plan.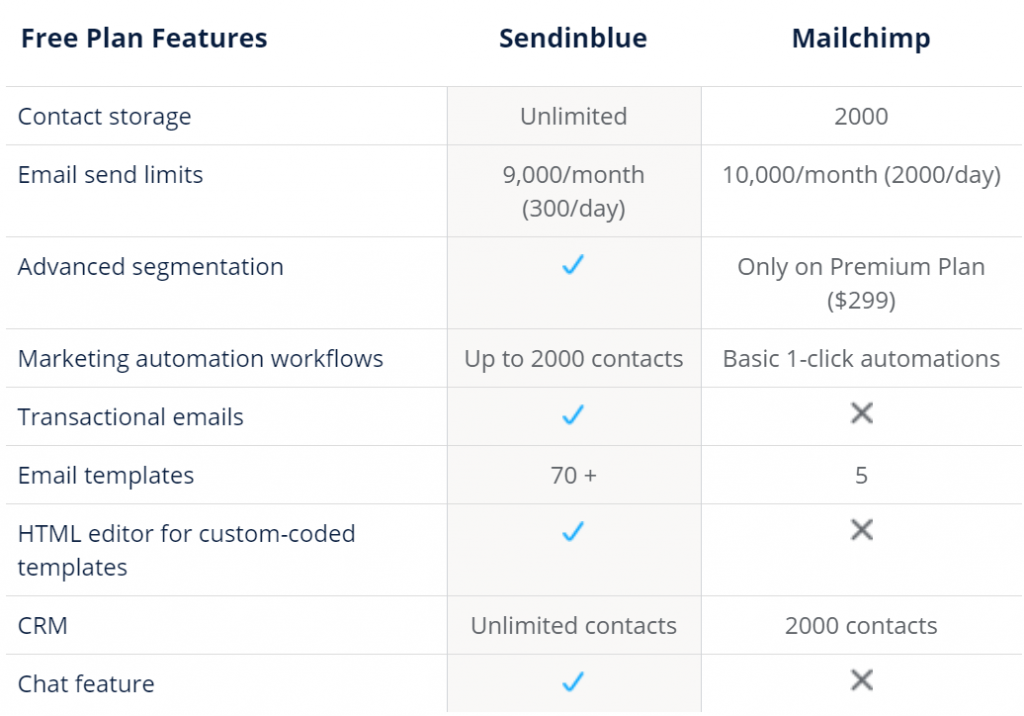 SendinBlue Clearly Won the Pricing Battle!
SendinBlue Vs MailChimp Email Marketing Automation
Mailchimp is obviously the old chip of the block. It has been around for much longer when compared to sendinblue, but some of the features which it offers are overpriced. Mailchimp is one of the top email marketing services out there but sendinblue is a close second. You can use Sendinblue to run advanced trigger-based campaigns by analysing email engagement, contact data, and web behaviour.
Learn more about email marketing automation tools with our guide.
When I interact with my clients and consult, many of them feel the reason for sendinblue being a more affordable option, it's workflows might not be that good or some features must be missing. But when you look at SendinBlue marketing automation, it offers one of the best in the industry. Sendinblue Workflows are a breeze to set up. Plus The offerings spread from multi-channel set up of workflows for not only Email, as offered by Mailchimp but also for SMS Marketing.
Another feature is database automation where any changes in automation workflow lead in updating the contact lists. Sendinblue also offers lead scoring, campaign testing before activating and feature of Best Time. Best Time feature helps the companies in sending the campaigns at an optimal time after considering the earlier campaign performances. Such advanced automation services help Sendinblue to have an edge over Mailchimp.
Read our analysis on the best time to send your emails where we have analysed more than data from 20 million users and studies from 10 huge email provider services. So that you can have the best open rate and conversions. 🙂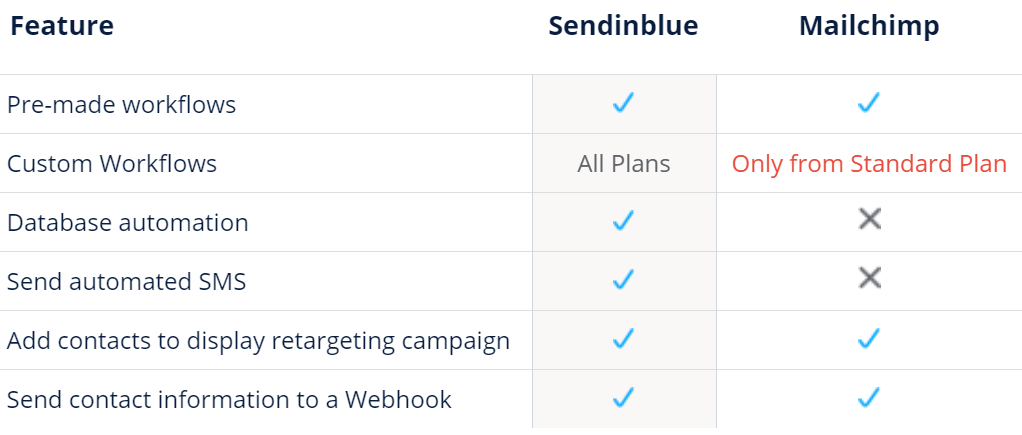 SendinBlue is the clear winner!
Flexibility and Designing Comparison
Most of the businesses have a time crunch at their hands and want things to be ready as soon as possible. Hence your email marketing service provider should be well versed with ample of customizable templates which businesses can edit and send out in the least time possible. If every time you have to design an email template from scratch it is a waste of time and your resources. Also, these templates should be professional, presentable & mobile responsive. According to me Mailchimp has better templates when compared from Sendinblue.
Mailchimp has a better template gallery which has 100+ templates and hopefully you will find something for each occasion as it is very well diversified. You can find the template easily by sorting by category.
Check out our article on How to use Free SMTP Service Providers to send emails for free through your WordPress Website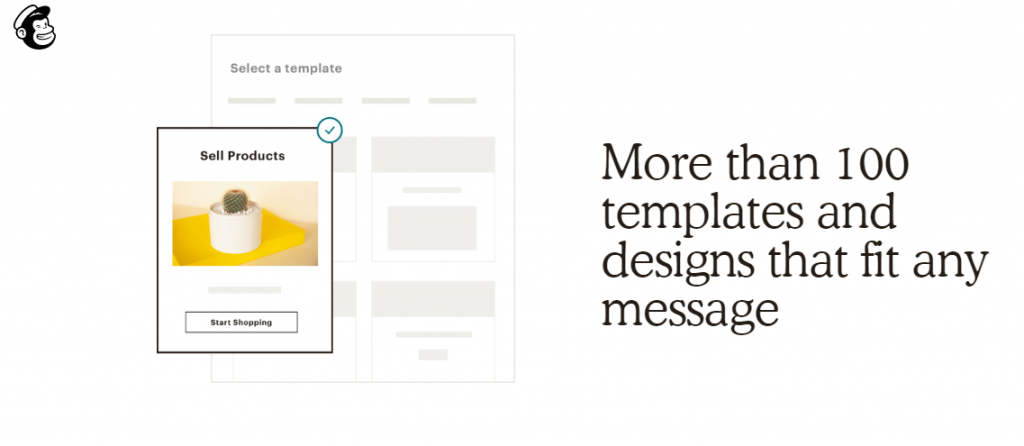 You can also design your own template or edit the one already present and save for later use. You can use these saved templates for your campaigns. The biggest disadvantage of SendinBlue in design category is its lack of template options. You can read more about the free email services you can use to send free emails here.
MailChimp is a Clear Winner for us!
Transactional Email Comparison
Before comparing transactional email feature by both the players, it is important that you understand what is a transactional email and how transactional emails are different from marketing emails. As I have seen numerous times that people mix these two. Below are the links for your better understanding of the whole transactional emails concept –
Now moving forward with comparison of the transactional email feature offered by SendinBlue and Mailchimp.
We all know that the demand for sending transactional emails is increasing exponentially, so it is only logical that the two biggest email marketing companies offer this service.
Transactional email service offered by Mailchimp – It is an add on service to the existing plan. For any additional add on your purchase for transactional emails, you can send 25000 emails. That means, businesses need to pay extra on top of the monthly plan that they have purchased. It will be an additional cost to the business and are valid only for a month.
Transactional email service offered by SendinBlue – Whereas in SendinBlue you need to first enable the option to send transactional emails in their dashboard, you can find the tutorial on how to do it in the links above. Sendinblue offers the transactional emails in the monthly plan itself. Sendinblue also has an advantage that you can even sync your transactional emails with transactional SMS's and get better conversions using the same platform. Also, through different domains, transactional as well as promotional emails can be separated since they have confidential information.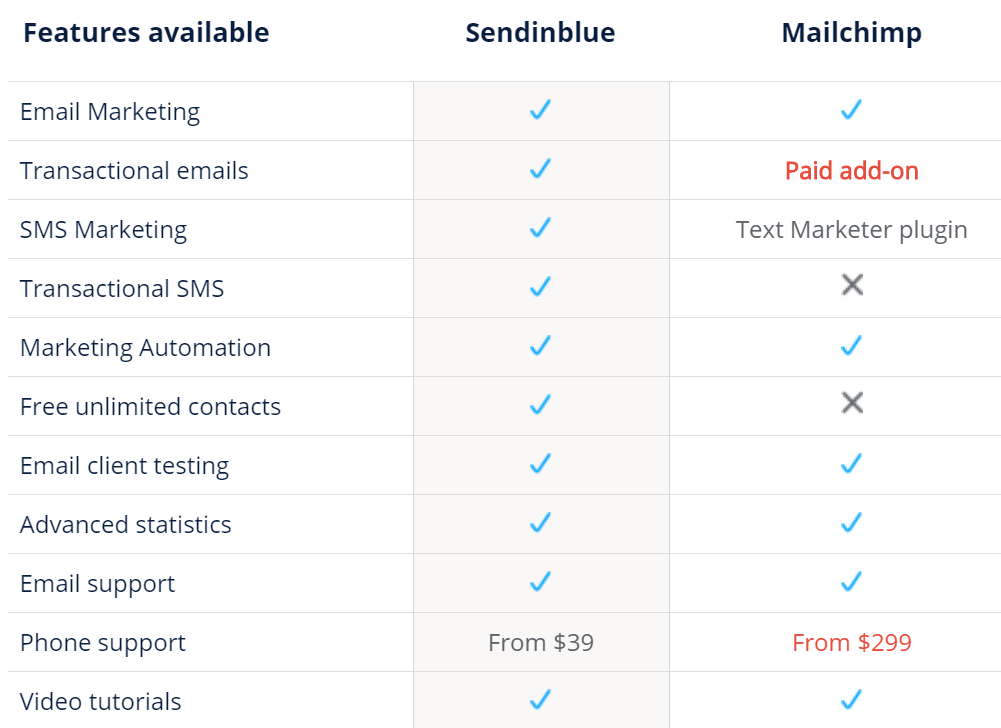 SendinBlue Wins the transactoinal email duel!
Email Deliverability Comparison Sendinblue Vs Mailchimp
When you are looking at any email provider, deliverability is a huge factor as it affects your revenue directly. It simply doesn't make sense if your emails land up in promotion or spam folders. That will be a total waste of your efforts and costs. Hence you require an email provider which can help you deliver your emails in inbox through proper validation. To ensure, timely delivery, Sendinblue has a rigorous system in place which ensures the businesses that their emails reach out timely and in the right place. Read about free autoresponders here!
You can use both the platforms to send a high volume of emails. Sendinblue offers you an option to use an SMTP Server with dedicated IP, whereas in MailChimp you need to take an SMTP Server from mandrill a subsidiary of MailChimp.
Mailchimp offers Agency Program and White Label Solution. Check it out. Whereas Sendinblue no more offers Agency Plan.

Deliveralibility of Mailchimp is better, Both offers different kind of white label programs. So the mailchimp wins this one for us!
Which one offers unlimited contacts?
It can be quite frustrating when you have to pay for stored contacts rather than an email sent. Businesses are looking for a solution that can offer much-needed flexibility. If you are looking for a platform, that does not charge you on the basis of contact stores, Sendinblue is the place.
Mailchimp – When you sign up with Mailchimp, if you wish to add more than 2000 contacts in the list, you will have to move to paid plans, as it stops you from sending emails as soon as your list exceeds 2k contacts. Also, if two of your lists have the same contact, it will be counted as 2 contacts. Thereby limiting the lists even further. The free plan lets you send emails to 2,000 contacts. It also counts your contacts even if they have not confirmed their emails.
Sendinblue – Sendinblue offers its customers the pricing structure where the businesses are not priced as per the stored contacts but on the email sent. Additionally, the plans do not have any limit on the number of contacts. I Hope, that would have given you some relief!! Businesses can grow their contact list as they want and such flexibility is very attractive to businesses nowadays. You can change the plans as per your email requirements giving new businesses a kick start in the industry. You can opt for a double opt-in where a contact will be added in your list only after they confirm their emails. Giving you a better open rate. You can read the detailed SendinBlue review here.
This gives Sendinblue a better hand in the market.
Design Testing Complete Comparison
When you send a poorly designed email to your contacts they might not click the link in your emails and may unsubscribe or worst can report you as spam, leading to decrease in your reputation. A poor design is like an email marketers dreaded dream it takes your effort, planning, costs but do not deliver.
While designing your emails make sure that they should add value, make your customers feel connected and clearly convey the message. An email is the impression of your brand make it count. With both sendinblue and MailChimp you can test out your designs by sending a test email or check out the previews on how your emails will look on different devices like desktop or mobiles or you can also see how will your clients see your emails.
Mailchimp – It charges you to test your emails on your email clients. There are 25 tokens for the Inbox preview which are offered in monthly paid plans by Mailchimp. One token will be used when a business tests an individual client. Basically, it means you can preview how your emails will look on different email clients (Outlook, Gmail, iCloud etc.)
Sendinblue – It offers the testing on email clients for free. You can preview how your emails will look in different email clients for free.
Mailchimps's feature is better but is a paid version, SendinBlue offers it for free!
Registration Forms – Who Wins?
Almost all the email marketing platforms offer embedded registration forms that can be integrated with almost all the CMS's like WordPress, WIX etc. You can use these registration forms to directly to add your subscriber details in your lists. It is one of the important aspects of marketing companies to provide customizable registration forms.
Mailchimp – In Mailchimp, it is difficult to find registration forms as it comes under Create Button and cannot be seen in the main navigation. Registration forms can be created in the form of a landing page, it can be embedded, or in form of a pop-up. But there is one shortcoming in Mailchimp that each and every form is not mobile responsive which can be a hurdle for the business. Also, the new subscribers can be put in only one list and if they are put in different lists as well, the user will be charged again. It is one of the shortfalls of Mailchimp which can hamper its usage by businesses.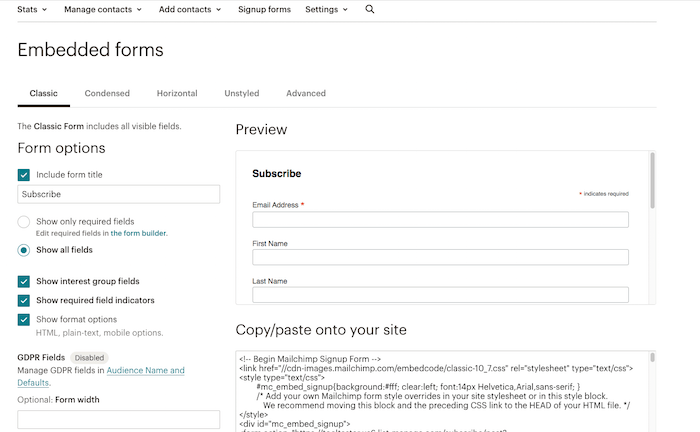 Sendinblue – Whereas on the other hand, Sendinblue gives freedom to the subscribers to choose in which lists (which are based on industry/interest) they want to add their subscribers. If you are using WordPress you can either embed the form or use the sendinblue plugin to create one. You can choose a double opt-in option, for any new subscribers that registers and only that confirms will be added in your lists. You can also put a ReCaptcha to avoid bots. Check out SendinBlue Registration Forms feature here. The biggest drawback that I found was with the designs it lacks options and looks kind of bland.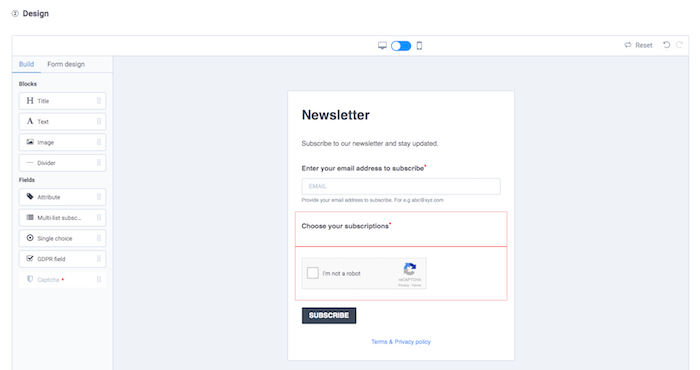 If you look at customizability Mailchimp has an upper hand where as Sendinblue has an double opt in option and does not consider it as a separate contact. It is a tie from my perspective. 🙂
List Management – Which one is better?
List management in Sendinblue – The lists set up and segmentation process is easy. You can filter contacts by field behaviour or contact criteria. You can sort out your lists by adding multiple conditions. Also, specific conditions can be put so that when a subscriber signs up, they can be included in a specific list through automation. Here's an article we found on the SendinBlue website about managing your lists.
CHECK OUT THE MAILCHIMP AND SENDINBLUE ALTERNATIVES HERE. And you can Get 20% off Sendinblue Coupon Code here.
List management in Mailchimp – Users usually struggle with list management as those are mutually exclusive. Under the same campaign, contacts cannot be included on different lists. Also, subscribers cannot be moved from one list to another list by creating automation. Also, the cost incurred by users of Mailchimp can be counted multiple times for the same campaign, if different lists contain the same contact which is off-putting to the businesses as there are charges per subscriber in particular lists. Mailchimp has numerous options such as segments, contact lists, groups or tags which may confuse the users new to email marketing.
Mailchimp users struggle with list management, whereas Sendinblue offers a much better management
Editor Ease – Better Option?
You must be wondering why having an easy to use editor important? Now in email marketing, you need to continuously send and designing new campaigns (new product updates, transactional emails, discounts, festival celebrations, year-end review and the list goes on). You don't want to waste 2 hours designing an email campaign. With an easy to use editor, you can save a lot of time.
Sendinblue Editor – You can use sendinblue editor and design your emails via drag and drop editor. Check out how to use their editor here. You can also opt for an old email template that you saved the last time. Or choose from their template gallery. Check out the Editor here!
Mailchimp Editor – Mailchimp's drag n drop editor is easy to use. However, if you are a beginner, you won't be able to find some functions easily for new subscribers such as adding the opt-ins.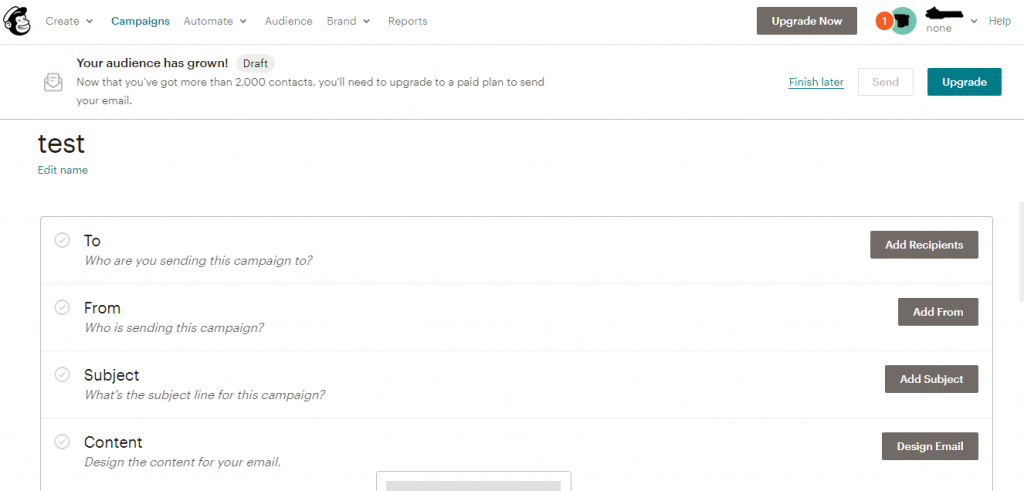 Both Sendinblue and Mailchimp have a clear process thereby guiding the user to complete all the steps along with great designs. Hence its a draw!
Conclusion – The Final Result
According to our analysis, SendinBlue is the clear winner in the comparison of Sendinblue vs Mailchimp. Mailchimp has a better email template collection but is a more expensive email marketing service. Sendinblue offers more features at a reasonable price point.
SendinBlue is clearly a better MailChimp alternative!
FAQ
Which is better Mailchimp or Sendinblue?
I have used both Mailchimp and SendinBlue in the past, both have their advantages and disadvantages. I find Mailchimp a little expensive but it depends on what features you want to use. Here is a complete comparison of Sendinblue Vs Mailchimp features.
Is there something better than Mailchimp?
You can try SendinBlue if you are fed up of Mailchimp, Here is a complete comparison of SendinBlue Vs Mailchimp where we have discussed the analyzed the complete comparison of both the. And here is a complete list of Alternatives which you can use instead of Mailchimp.
Is Sendinblue free?
Yes you can send 9000 free emails every month using SendinBlue. Check out the Sendinblue review and Alternatives here.