Welcome Email template is one of the crucial factors which can make a prospect happy and feel important to the business. What does "Welcome Email" mean to you as a prospect who has just committed themselves to a company by registering or subscribing themselves? I believe that you as a customer want to feel special by a Welcome Email. Welcome Email acts as an opportunity to thank or show positive sentiment to the prospect who has just registered themselves.
In this article, we will explore the following topics:
What are Welcome Emails?
It is crucial for any business to game up their welcome email game. It needs to be ensured that the content sent out through Welcome Email is on its A-game. Welcome Email is the next step of the customer-client relationship. In simple words, it is the first communication sent out to a prospect when it reaches out to a business. It might not be the first impression as the prospect could have been already contacted the sales team, however, it can help in building the foundation of the business.
Just look at the above Airbnb Welcome Email. It is not just attractive but also asks for the needful information. It comprises of an introduction to oneself, verification of your identity and lastly exploring the world of Airbnb. Take another example of welcome email by Sendinblue where the email is addressed by Co-CEO which lets the customers know that you are being recognized and valued by even Co-CEO of the company.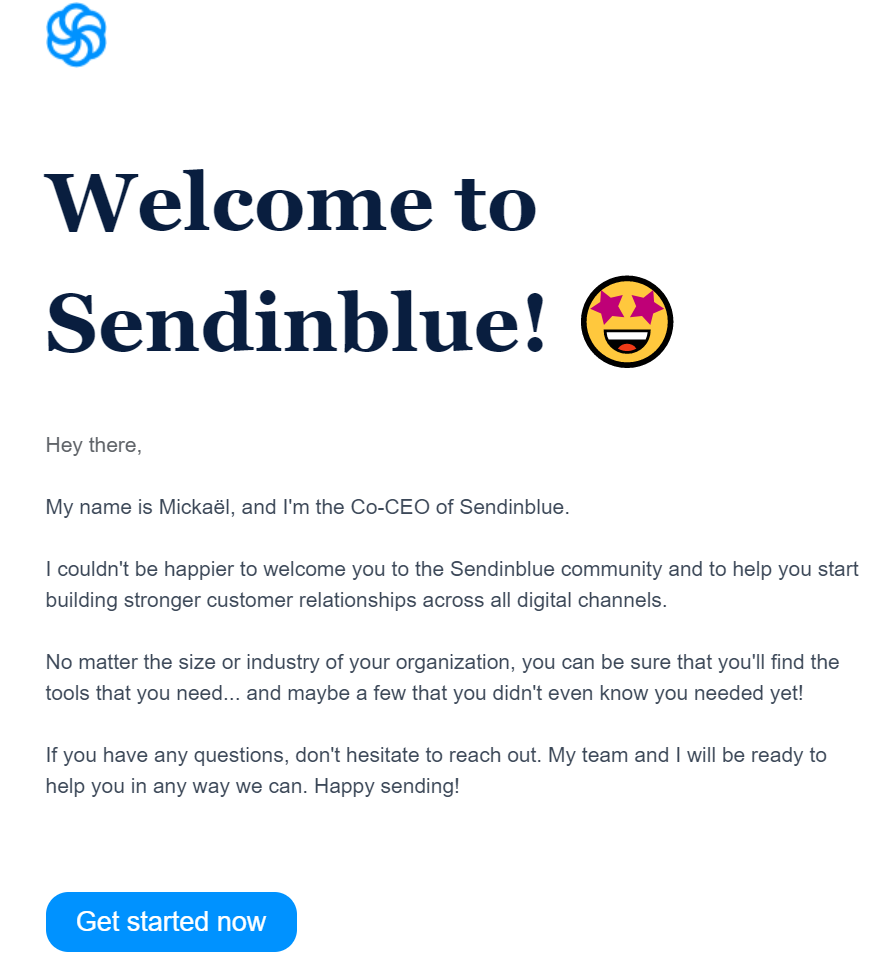 According to latest statistics, In 2016, non-personalized email messages had 13.1% of open rate in 2016 in United States.

Just imagine what could personalized email messages could do your business.
The welcome email motivates you to reach out to them with any query and tool/resources are provided even to small/medium-sized company to create a name for themselves in the industry. A drip campaign can also be used for welcoming new customers. Read here for what is a drip campaign?
Welcome Email is a way of appreciating the subscriber for signing up. Welcome Email helps in providing any interesting information apart from the necessary ones to a set of new customers through an automated message sent out to them.
Welcome Email Templates
To create a creative and impact Welcome Email, it is necessary to look out for the variety of Welcome Email Template available and which one suits your business requirement perfectly. You might be thinking that there is a requirement for a graphic designer to create an attractive Welcome Email Template. However, the question which you should be asking is from where you can find the free welcome email template for the new customer. Don't worry, below are few resources that will provide you with welcome email templates.
Read our guide to the best time to send emails in which we have analysed more than 20 million recipients, data compiled from more than 10 email providers.
Here are some of the players that offer free email templates –
Sendinblue
Sendinblue is one of the renowned names in the email marketing software industry which provides businesses with a beautiful collection of email templates especially are designed for different needs of the businesses. The feature of Drag and drop editor provided by Sendinblue helps in easily editing and customizing the templates. If you have any doubt regarding the reviews of Sendinblue, you can read here for Sendinblue Review. Businesses can have access to more than 70 Email templates by creating a free account on Sendinblue along with features like marketing automation.
If you are using mailchimp you must Read our guide on SendinBlue vs Mailchimp to find out what you are missing out!
300 emails can be sent daily by merely creating a free account along with creating a welcome email or setting up the sequences for automation. You can check the detailed plans by clicking here. Sendinblue helps a business in making email marketing strategy by providing you with different resources and help in building a healthy relationship with your customers. Read here for what is email marketing strategy?
Constant Contact

Another name in the industry of email marketing is Constant Contact. Constant Contact provides you with amazing Welcome Email templates along with advanced features such as eCommerce integration, segmentation and reporting among others. Email can be sent to 500 subscribers which a charge of $20/mo where unlimited emails can be sent. Look out for the Constant Contact plans here. Also, welcome emails can be generated creating a strong brand along with improving customer relationship. This is possible due to the feature of email drag & drop editor. Click here to start sending free Welcome emails.
GetResponse
GetResponse is one of the free SMTP server providers which provides creative email templates thereby delivering powerful content through professional-looking emails. The monthly price of the basic plan starts at $15 which converts into $10.50 if paid for an annual plan with a list size of 1000.
View here for pricing plans of GetResponse. The Welcome Email templates provided by GetResponse helps in creating a memorable experience for the users. Along with it, the automated transactional email feature adds on to the new customer experience which helps in creating a strong new relationship from the beginning. Learn more about what is a transactional email.
Welcome emails are generally autoresponders that are triggered as a response to your action.
Aweber

Aweber believes in delivering the best technology to businesses which helps in driving excellence through innovation. Aweber provides a trial for a month by just signing up where amazing features can be used by businesses. Start your free trial here.
Aweber provides numerous welcome email templates for new customers. Aweber helps the businesses in creating an email marketing design that focuses on maximizing the receipt rate and improving the performance of email marketing. Along with this, Aweber offers artificial intelligence, CRM, transactional, and email automation among others. Keep reading here for what is email automation.
Welcome Email Examples
The beginning of any relationship starts with trust and commitment. Similarly, if a new customer has subscribed his/her account, the person is looking for a commitment from the business. To make the prospect valued, there are many welcome email examples for more customer.
We will cover the following welcome Email examples –
Below are few welcome message examples which can be adopted by companies to make the user feel valued:
Self introductory welcome email example
The self introductory welcome email focuses on introducing your business and the benefits to the customers getting associated with the business. It can be a nice opportunity to inform customers about your business if it's not a well-known brand or comparatively new brand. Just keep in mind that this welcome email doesn't just focus on your business. Rather, it needs to be focused on them.
To connect with the new prospects, business needs to appeal to them by taking them around what's in it for them. Let's take an example. Adding a photograph of your employees or team creates a personal touch. Real pictures make more impact on customers as compared to model images.
Start designing FREE awesome-looking welcome emails choose from hundreds of email templates here!!
Special/discount offer
There can be many ways of luring customers and create a positive impact on them. One is by providing them discounts, free shipping or special offers as a part of the welcome package. Also, clear instructions for claiming the offer as well as discount code should be mentioned along with an expiry date so that potential customers convert into actual customers. Businesses want to create leads so that they can understand their preferences and hence there is no better way of giving discounts and make them a fast purchase.
Personalized message
Who doesn't like personalized messages? I bet every one of you feels committed to a business that sends out personalized messages rather than old boring impersonal messages. If you want to send out personalized messages, there is no better place than Sendinblue. Sendinblue creates email subject lines along with content that is personalized through its email blast services and attributes.
Not only this, but web tracking feature can also be used to generate personalized welcome emails which are based on the pages visited by the customer thereby sending a trigger mail to the business. Sendinblue's email signup form helps businesses to collect subscribers' preferences if they don't have access to such information. Read more about All Sendinblue features.
Onboarding Email
Customers may forget about purchasing a product/service from your business. Thee comes to the entry of On-Boarding Emails. Onboarding emails can help initiate the action from customers at a fast pace. New prospects may not be very well versed with the products offered by the company, hence, it needs to ensure that customers understand how to make most of the products offered by the company.
Create and automate complete onboarding email series for free here!!
Just keep in mind, "Low level of configuration. Smooth and simple onboarding message". This is the key take for a business initiating with onboarding emails. Also, customers can be segmented by a series of questions asked for personalizing emails which give customers a heads-up that something is coming up for them in future.
As per statistics, conversion rates of online shopper goes to 2.57 percent in U.S. 2.58 website visits on global E-commerce platform were turned into actual purchases in 2019 (2nd quarter).
Videos/GIFs
More engaged people can be turned from a prospect to actual customers. And there is no better way than Videos or GIFs to engage them. The business should include their use since people relate to them which leads to more conversion rates. However, there might be concerns regarding videos not being played or GIFs not being seen. Hence, GIFs with 4-5 frames can be added where even if it does not play on particular email platforms, still, users will be able to see the starting image. You could also use a good video editor to compress videos or format them according to the attachments size limits of your ESPs.
Free Trial
Once, a user has signed up for a free trial, the users will be getting an email series which will be alike to the on-boarding email. The followup emails can include tutorial videos for better customer engagement along with an introduction to the product/service features which might convince them to convert from a free trial to a paid plan. However, don't be pushy. The aim should be informing them what more features they can access with a paid plan. Also, the email of the free trial can include more brand information or product training. "Simple but strong" should be the key focus of the businesses.
Product/Service Catalog
If you are a new business or have introduced a new business line, it is important to educate customers to try out those products. This requires an eye-catchy email that lures the customers to buy the products. At this time, the product catalog email plays an important role. The email can include the trending or best selling products which customers can try. And if your business deals in other types of resources, you can just list your popular posts in the email.
The above image of the product catalog email displays a variety of products along with informing the customer about their return policy, free shipping, and service. Just make sure to not put too many things in a particular mail, otherwise, it will confuse the buyer and it may lead to loss of the prospective customer.
Start with a welcome email!!
A variety of welcome email templates generates leads for businesses. Prospective customers turn into long-term customers thereby increasing marketing ROI. You can look out for any Welcome Email templates which work out the best for you. Different approaches can be taken and tested before choosing the final email. Once you start using it, there is no looking back. Some great ideas waiting for you. So when are you starting?
General FAQs
What is a good welcome message?
A good welcome message is a respectful and warm way of creating a long term relationship with the customer. A good welcome message convinces the prospects that the company values them.
How do you welcome a new customer?
Welcoming a new customer is comparatively easier in an email. The welcome email needs to have a personal touch along with company introduction and offerings. It should be framed in a reassuring manner so that users feel that they have made the right decision to subscribe to themselves.
What is the best newsletter template?
A newsletter can be sent out digitally to the users on a monthly/weekly/daily basis. The foremost aim of the newsletter is to communicate and engage the users. Newsletter templates are provided by Sendinblue, Constant Contact, GetResponse among others.
How do I create a newsletter template?
Newsletter templates can be created by companies through different templates offered by email marketing companies. Just choose the template and content which describes your firm the most and you are good to go.