The virtual business conduct seems easy through emails, but, in reality, it is as challenging as starting a brick and mortar business. If you are a business/individual conducting business virtually, I bet you will agree with me. To ease the pain, many platforms offer email templates that help your business to kick-start. Email marketing is a wide arena where a message is sent out to a prospect/actual customer for different purposes like an advertisement or increasing sales.
So let's move forward, In this article, we will cover the following topics –
What is an Email Template?
Email marketing is considered one of the highly effective marketing strategies undertaken by business digitally. To create an attractive and informative email, businesses require email templates which not only goes with their brand name but also converts prospect to actual customers. Designing emails are not considered to be a cakewalk. It requires a lot of creativity and imagination to create an email with which the customers can associate themselves.
Email templates are pre-formatted so that the businesses can customize and replace the content to suit their requirements. They even provide consistency to your email thereby giving the same feel with which the firm first reached out to you as a subscriber/customer. To save you from all the hustle, free email templates are provided by various businesses which we will discuss in the latter part of the article.
Once you have the template and its layout in-place, populating them with content and relevant visuals isn't that hard. Especially with the use of generative AI, which allows you to convert your words into stunning visuals within seconds, if not minutes.
Free Email Templates
Suppose, you are getting free stuff, won't you take it? The answer will be Definitely YES. Similarly, there are free email templates provided by different sites to businesses at zero cost. Isn't that a relief to your ears 🙂
When to look out for Free email templates:
Save time: You want to send out your campaign quickly? So why to worry, free email templates that are already made by various sites are available to your disposal. Just modify the content which suits your brand and you are good to go. Moreover, a responsive email template can be edited, customized as well as optimized.
As Per our latest report on email statistics, in a survey conducted as of April 2017, it was revealed that 90% of the respondents felt that content personalization in marketing is somewhat/very attractive.
Save Money: If you are a small business, there is a crunch of resources that are available at your disposal, majorly, money. Email developer can be a great investment for your business, however, it can be a costly affair to the firm. If you are looking for a creative and attractive email template, then the free email marketing templates offered by different sites can save you from misery.
Limited skills: Rather than trying for the 20th time to correctly apply your code for creating an email newsletter or campaign, it is better to create your campaign on an already available free responsive email template. This saves you from frustration and gives you a fresh perspective on areas that are more crucial at that moment.
What is Responsive Email Templates?
You must be wondering about what is a responsive email template or particularly mobile-responsive email template. We all know, technology is changing dynamically. Digitally, you can do anything with a blink of an eye. Individuals and businesses do not have to open their laptops/computers to read their emails. everything is available at their disposal, i.e., on their phone.
Hence, it is necessary as well as important that the emails or campaigns sent out can be easily read and look attractive on any device including phones. Also, the responsive emails need to be sent out when the majority of potential/actual customers are not busy with anything urgent, otherwise, your email will be overlooked.
We have analyzed data for more than 20 million recipients and data has been compiled from atleast 10 email providers to understand the best time to send emails. Learn about the list of Free SMTP Servers and how to use them to send free emails.
The new fad is of responsive email templates where the campaign or newsletter adapts itself to the screen size/resolutions thereby giving convenience along with meeting a large chunk of needs of subscribers. If you are new to desining templates, desining the header of an email is the most difficult thing to do. Hence we found out this great resource to get free email header design. 
Email Template Examples
Business pitches their customer's different ideas for which a common or basic email template would not work. If you want to gain customers' attention, it should start with your eye catchy as well as informative email. We have divided email templates for your convenience.
Few best email template examples that we could list are as follows:
Common Email Template Examples
Common or basic email template allows businesses to inform customers and interact with them at a very basic level. Businesses or individuals can design their own template by making changes in the design and content as per their brand image.
Below is an example of a common email template example by Sendinblue which allows the businesses to design their email by including the following information:
The email template uses a particular color schema throughout the Email.
Focuses on the product.
Attract customers by informing them about the featured products or latest developments.
Lures the customer through their blogs.
Logos, pictures, and colors can be coordinated and customized.
Check out our reviews on Sendinblue and constant contact 
I feel Sendinblue is one of the best email service provider company which offers you and your business some creative features. Sendinblue's drag and drop editor lets the users create their own dream templates. Also, the firm focuses on creating strong customer relationships by sending out personalized emails. Such Email Templates help the customers to understand the company's offering better. 
You can Sign Up by just clicking here and selecting a free email template for your firm.
Another common email template is given below where topics can be added as and when a business wants to move further in introducing the brand to the customers. The below email template gives you the freedom to create your own design. It is crucial for any business to market its product effectively.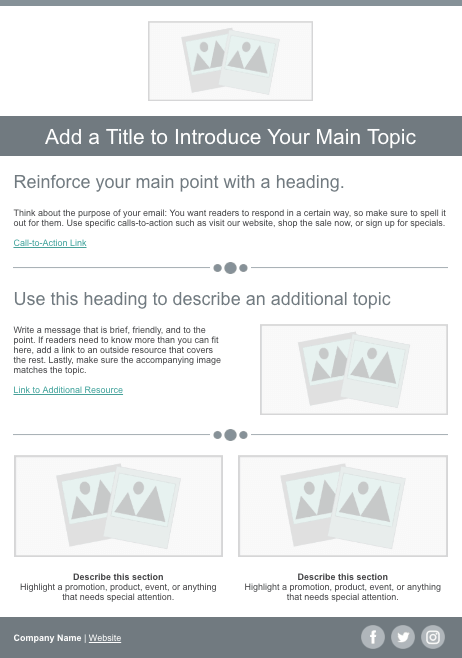 You can read "A Complete Guide To Your Email Marketing Strategy In 2020" for understanding the needs of attractive email template
The above email template is offered by Getresponse. It is one of the most basic and responsive Email templates for example. Getresponse offers you a plan to start from $15/mo. I subscribed to an annual plan, the price goes down to just $10.50. Don't believe me? Check for yourself here. The site provides responsive email templates like the one above which includes the following features:
Send out the message clearly
The essence of the message can be understood by just looking at it
Company and service information can be communicated easily
ECommerce Email Templates Examples
Sale and Ecommerce Email Template is one of the important templates on which a business relies on. You would not want to look unattractive while reaching out to your customers. What can be better than offering an appealing sale email template to prospective customers?
Below is an Ecommerce Email Template offered by Aweber to its subscribers. Aweber is a platform for email marketing that helps small and medium businesses to flourish in the industry. Following are the bullet points which cannot be overlooked in the below template:
Occasion of Sale
Day, Date, Time of Sale
Clearly mentioned of the discounted products
Terms and conditions as well as company description
Isn't this email template a whole package in itself? You can look out for more exciting email templates by just clicking here. Aweber not only provides some amazing free email templates but also ensures emails are delivered on time, provides its subscribers with dashboards and reports, creative landing pages, and many more exciting features. You can check out the various features offered by Aweber.
If you are looking for something classy, I would recommend checking Constant Contact Email Templates as well. Constant Contact offers its subscribers to send 1000 emails with absolutely no cost along with providing a number of Email Templates to choose from. Click here for detailed Constant Contact pricing.
The above Email Template is simple yet classy! You can add the following information in the above template:
Logo design and Brand name
Introduce new products
Attractive images can be added
You can add your Facebook, Twitter, or Instagram accounts as well.
Every brand needs to market its products in a way that gives them an edge over its competitors. However, it needs to be kept in mind that you don't copy someone's else idea or it may get you in trouble.
Festive Email Template Examples
Festivities around the corner and you don't have a stunning email template ready yet? No worry, the amazing email templates can save you from drowning. Putting forward some of the best Festive Email Template Examples:
The above Christmas Sale Email template is one of my favorites. Not only the template gives Christmas feel but also the color coordination excites me. You can also create such a template by using the following content that the above Email Template includes:
The information is to the point and clear
Offers like free shipping and discounts can lure customers to make a move
Giving them a festive feel and making them realize what they are missing
This Email Template is offered by Sendinblue which is one of the most known names in the email marketing industry. Sendinblue offers 9000 emails/mo that too at no cost. Don't believe me? Check out the reasonable pricing of Sendinblue yourself.
Read out "Sendinblue vs Mailchimp – The Complete Guide 2021" to look why Sendinblue is an alternative to Mailchimp.
We have chosen the Fathers Day Celebration as another example of a Festive Email Template. Making festivals special are an important part of businesses. This Email Template by Constant Contact fulfills the purpose of making Father's Day a memorable one. Below are the few features which I personally liked:
Brand name and greetings are written at the top
One-liner for communicating your message
Discount clearly mentioned which attracts the customers
Offering different products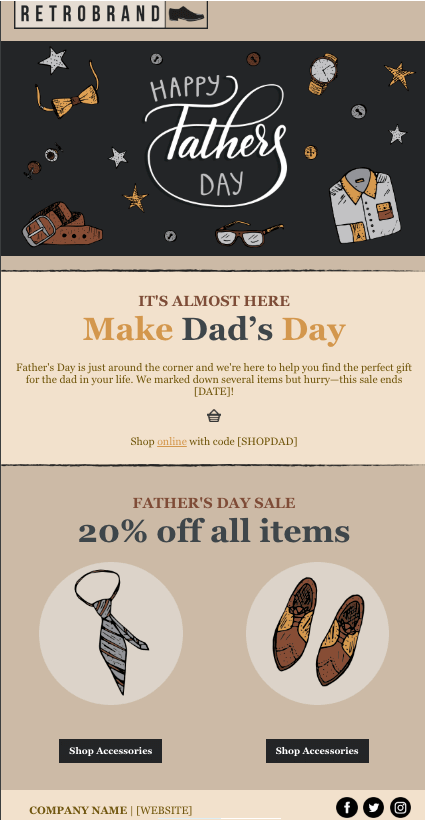 You can start designing your own Email Template by just clicking here. Constant Contact offers its subscribers with various features such as contact management, drag & drop editor, and email automation among others. Want to understand more about What is Email Automation?
Events Email Template Examples
The most difficult part of an event is not organizing it but to lure individuals to participate in it. To entice or educate prospective or existing customers, it is crucial to create an appealing email template.
We have gathered some of the awesome looking email templates which give your business extra nudge!
The above Email Template offered by Mailify covers the Gaming Tournament. It is a perfect example of an Event Email Template which is not only informative but also attracts customers for the following reasons:
The idea of the tournament is conveyed clearly.
The details about the tournament are properly mentioned.
Along with event promotion, the template provides a platform to buy their products as well.
The template itself gives a competitive feel.
Read about how potential clients can be converted into real customers in our article "A Detailed Guide To Awesome Drip Marketing Campaigns in 2021!"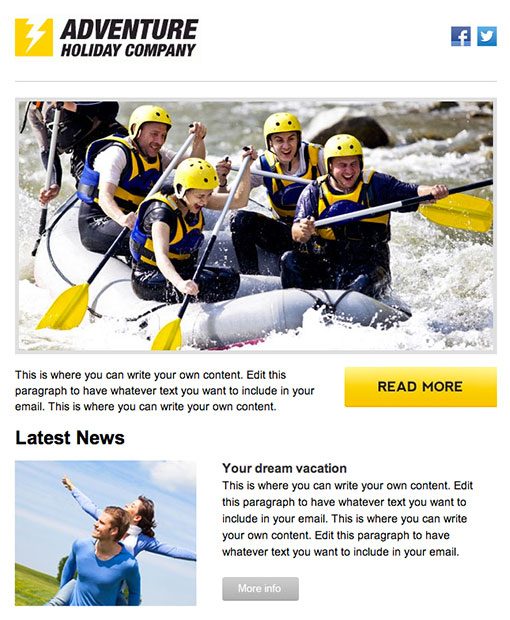 The above Email Template is provided by ActiveCampaign. It is another email marketing platform that focuses on providing technology that businesses can easily apply to your firm. The Email template for Rafting is a beautiful example of an Event Template Example. Following are the points which are a definite lookout in the template:
Detailed description for Rafting event
Pitch for the vacation as well
Attractive images to lure customers.
The pricing plans for ActiveCampaign starts at $9 per month to $229 per month paid annually. Look at the detailed pricing for ActiveCampaign here. The ActiveCampaign offers various features such as triggered emails, CRM, marketing automation, machine learning as well as autoresponders. You must have seen automatic emails/responses for a specific trigger, or command. That is an Autoresponder. Read in detail for What is an Autoresponder?
Some of the best Autoresponder examples are welcome emails, abandoned carts or confirmation details.
The above Email Template provides its users with all the relevant information. The well-drafted Email Template is a great way to understand all the key points of an Event email template. The following pointers are definitely lookout:
Precise and clear event information
Registration Link for users convenience
Attractive template and design for luring individuals to participate
No wonder Sendinblue never stops surprising you!
You can check out the full Sendinblue Review here.
Yearly Email Template Examples
Holidays are setting in at the year-end and it's the time to send out yearly reviews to your new or existing customers about the achievements, new ventures, new projects, new launch of product/service, and many more other exciting things. To communicate such news there is a need for a Yearly Email Template that transfers your excitement to the customers.
The above New Year Email Template is offered by Sendinblue. It's a perfect combination of informing customers about the achievements along with telling your team members that they are valued by the company. The above responsive email template includes certain features which needs to be taken care of while designing your own Yearly Email Template:
Occasion Greetings
An amazing way to introduce your team and make them feel recognized
Great way to inform about new projects
Transactional Email Template Examples
Have you ever wondered how come when you sign up, you automatically get an email welcoming you? It is called transactional email. A particular trigger is set for a specific response such in the case of signing up. Read more about what is a transactional email and gain some amazing insights.
We have gathered some of the Transactional Email Examples for you:
You can send out secured as well as encrypted emails by using the Safest Email Providers!
Let's start with Email Templates!
After having read about the amazing sites offering mesmerizing email templates, we all know that a wise choice would be exploring them rather than hiring an email developer creating a hole in the pocket of businesses. So explore all the sites and choose the best template reflecting your brand image.
General FAQ's
How do I make an email template?
Email Template can be created in Gmail by clicking on the compose window and entering the template text. You can click on more templates, choose an option and your template is good to go.
How do I write a professional email template?
Certain guidelines need to be taken into consideration while writing a professional email template like Subject Line, Greeting, Font and Style, and Closing among others.
What is HTML email template?
HTML is a code that defines the structure along with content in an email. The HTML email templates can be reused for building various campaigns.