Mailerlite
$0 - Free 12000 emails every month to 1000 Subscribers Max !!
Automation Capability
7.5/10
Pros
Free plan for Starters
Simple Interface
Multiple Landing Pages
RSS, video marketing, and WordPress integration
Cons
Need to upgrade automation
Lacks Meeting reminder feature
lack of stock images feature
Mailerlite is an email marketing tool through which you can increase subscribers and step ahead in the market. Mailerlite was introduced in the market in 2010, mailerlite helps you to create personalized email marketing campaigns for your business and website. Mailerlite is built to help its users by building trust among your audience and also help them in converting from subscribers to customers.
It's a simple and easy-to-use tool which makes it, one of the most preferred email marketing tools. Almost 1 million people around the world including startups and freelancers send billions of emails using Mailerlite every month.
Mailerlite Features
The drag and drop editor feature help users create an engaging and catchy newsletter in minutes without any hassle.
The text editor feature helps you to add different links, images, and bullet points in your emails to make them more appealing to subscribers. You can also add signature and profile pictures to your emails.
In mailerlite, you have the benefit of creating your own customized email marketing campaigns according to the behavior of your target audience. You can also combine your e-commerce platform such as Shopify and woo commerce for better results.
You can create your website and choose from different content blocks to set your website content and create engaging content for your audience. You can add different fonts and bullet points to your text.
Mailerlite allows you to filter your subscriber list and can collect subscribers through their sign-up forms and API integration.
In Email segmentation, you can divide the list of your subscribers into different sections according to the needs and interests of the subscribers. This segmentation allows you to send relevant messages and emails to specific people. The amount of relevance in your email marketing will positively affect the rate of visitors to your websites.
Landing pages help you in collecting leads, there are amazing pre-built templates available on mailerlite.
Email automation in mailerlite allows you to send emails to your subscriber at the right times when it's needed without any struggle, (welcome emails, birthday wishes, discount codes). For more on Email Automation visit our explainer here. 
Mailerlite offers A/B split testing feature in which you can test which email works well with different audiences, email opening rate depends on the subject line, you can make your subject line more prominent by testing your language tone length, personalization, etc in mailerlite.
In mailerlite, you can set up your RSS feed URL, which allows you to select the time, date, and day on which you want your subscribers and customers to receive email from the website.
Mailerlite Pricing
Its different packages allow you to choose a plan according to your need and budget.
| | |
| --- | --- |
| 1000 /subscriber  | 10$ /month |
| 2500/subscriber | 15$ /month |
| 5000/subscriber | 30$/month |
| 10000/subscriber | 50$/month |
| 15000 /subscriber | 75$/month |
All these plans offer unlimited emails, yearly discounts are available according to the plan you choose. Mailerlite's different features make it a complete email marketing and automation platform. Its different features allow users to create email marketing campaigns for their businesses.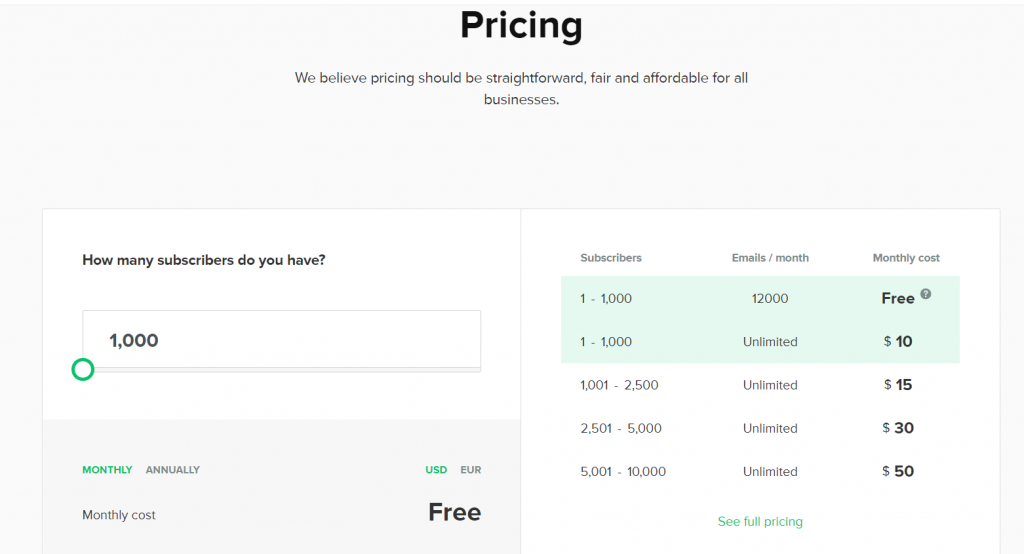 Mailerlite Free and Paid Plan comparison
| | | |
| --- | --- | --- |
| Features | Paid  Plan | Free Plan |
| No of emails  | Unlimited  | 12000 a month  |
| Autoresponders  | Included  | Included  |
| Landing Pages  | Unlimited  | 5 Landing pages  |
| Content blocks  | Included  | Included  |
| Email and chat support  | Included  | Only email support is included |
Pros and Cons of Mailerlite
PROS
They offer a free plan for the starters with a lot of features, which is a plus point for users who just do their business.
Mailerlite's simple interface allows you to run work smoothly without any trouble.
Mailerlite offers 13 freelancing landing page builder templates to create your landing page according to your domain.
Its features like RSS, video marketing, and WordPress integration allow new bloggers and content creators to excel in their field.
If you are new to email marketing then this is the best place where you can become an expert in email marketing and it's all free.
CONS
There is a need to upgrade automation as its simple interface only allows you to get notified when they click on a link or fill any survey. 
It needs more advanced automation to let you know when your customers or subscribers visit your website.
Mailerlite lacks the feature of sending reminders about the meeting scheduled at a specific time.
There's a lack of stock images feature in mailerlite, images which you can use in mails, so if you are composing the email, you will have to use your images.
Mailerlite Alternatives 
There are different alternatives to Mailerlite,  used to create email marketing campaigns. Some of the best alternatives are discussed below:
1. GetResponse
Get Response offers much more than Mailerlite, it has 200 responsive email templates and unlimited landing pages with stock image galleries making it the most preferable for the companies.
Get response offers to have A/B test in the basic plan as well,   you can test up to 5 versions for email and get the best according to the need, as it increases your click-through rate, increases conversion rate, and decreases the chances of customer loss.
We have a few blog posts mentioned below on getresponse. They're worth a read!
 2. Aweber

It is considered to be best for marketing teams, it provides free built-in e-commerce tools and unlimited landing pages. They offer a free plan only to those 500 subscribers. Aweber as compared to mailerlite provides 6000+ stock images.
They have three customer support channels, Its support features provide support at any time of the day, whenever you need chat support or email support, whereas Mailerite provides email and chat support in their premium package only. Aweber provides 500 + mail integration with over 700+ email templates.
3. Constant Contact

With over 100 responsive templates, a large image stock galley, and basic marketing automation makes it a user-friendly marketing tool for beginners .it is the best fit for marketing use on the bigger level because it has built-in tools that work with external integration, they have 500  marketing integration with the ability to connect with every social media, business management apps and CRM.they have 60 days free trial for the users in the US and 30 days for people around the world.
It doesn't offer any free plan like mailerlite, and if you are on a budget we will suggest you another website like Aweber which provides free plans to beginners.
Its two main features that we find different and more useful than mailerlite are that they support paid Facebook and Instagram ads, which benefits marketers who are using both email and social media. Another is the marketing calendar which helps you to manage and maintain market campaigns on time. 
If you want to learn more about Constant Contact, you should go to our blog and check out the other posts we've published.
4.  Mailchimp
Mailchimp is known for its user-friendly interface and it's more similar to mailerlite but it has its unique features. Mailchimp offers a free plan for as much as you want with 10,000 emails free per month, which is a good point but their email support system is limited in their free plan, and for more advanced support you need to avail of their paid plans.
Mailchimp is considered to be best fitted for the small and new businesses to give them a one-step kick start. Its other useful features are prebuilt campaign templates, email designers, merge tags, A/B testing like in mailerlite, insightful analytical reports.
To see more about Mailchimp, we would suggest checking out some of our other blog posts.
5 . Sendinblue
They offer marketing features including automation, templates for emails, and also chatbots, SMS marketing, and social ad which are not offered in mailerlite making Sendinblue a dynamic marketing platform for marketers.
Its free plan is available as well as paid plans are also available with more advanced techniques and features. They provide transactional emails and SMS marketing in their paid plan as well as in a free plan which sounds great to the marketers who are on a budget. Their free plan offers 300 emails per day with unlimited subscribers making it the best alternative to the mailerlite. 
You can learn more about SendinBlue in our other blog posts.
6. Benchmark Email
Benchmark is considered the best alternative for its features like a built-in spam checker unlike in mailerlite, in this way, you can check your email status and enhance your email marketing results. They offer over 500 email templates on all their packages including the free plan.
 Its friendly and easy user interface makes it more favorable among users as you can customize buttons, videos, add or remove social media links through their drag or drop feature. Its integration range is much more than mailerlite, its marketing integration rate is over 10 times more than mailerlite, as it offers 1500 marketing integrations.
Conclusion
 As mailerlite has been in the limelight for a long time due to its friendly and simple interface, but now the marketing dynamics are evolving and users need more advanced features in less period and under their budget .mailerlite offers a free plan but the features in the free plan are too limited which make users switch to other alternatives.
Mailerlite is seen to be more strict on its approvals compared to its market competitors. But if you are new and you only need limited features with the best newsletter designs then a mailiter is best for you but for more advanced results and features, mailerlite needs to upgrade its features or plans.